Today is May 1st, AKA May Day.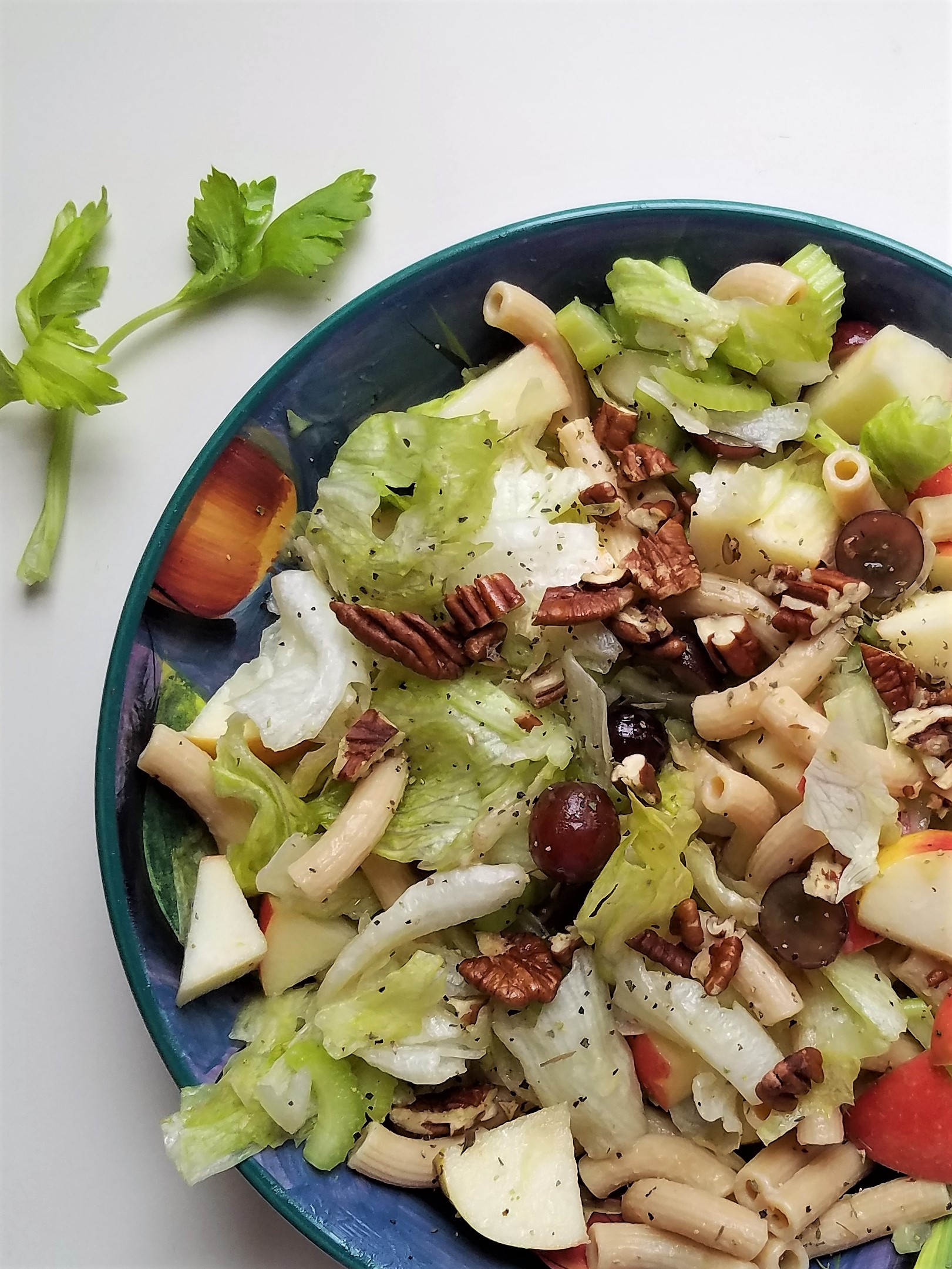 In elementary school, this day was a big deal for the kids because they would get to participate in the May Pole Dance.  Also, by kids, I mean me.  I got to participate in the May Pole Dance along with my entire third grade class.
I think it was a whole month in advance that we started practicing.  My teacher would take a break from lesson plans a few times a week and take us outside to the field to dance with ribbons.  I can't exactly describe how the dance went but it looked something like this. Our parents and the community got notified of the event (because 8 year olds dancing around a pole to create a ribbon braid is considered an event for a small town like mine, mmkay?).  It was also a rite of passage for children.  As a youngling in school, I saw the older kids participate and looked forward to the day that I would be so privileged to participate in the acclaimed event.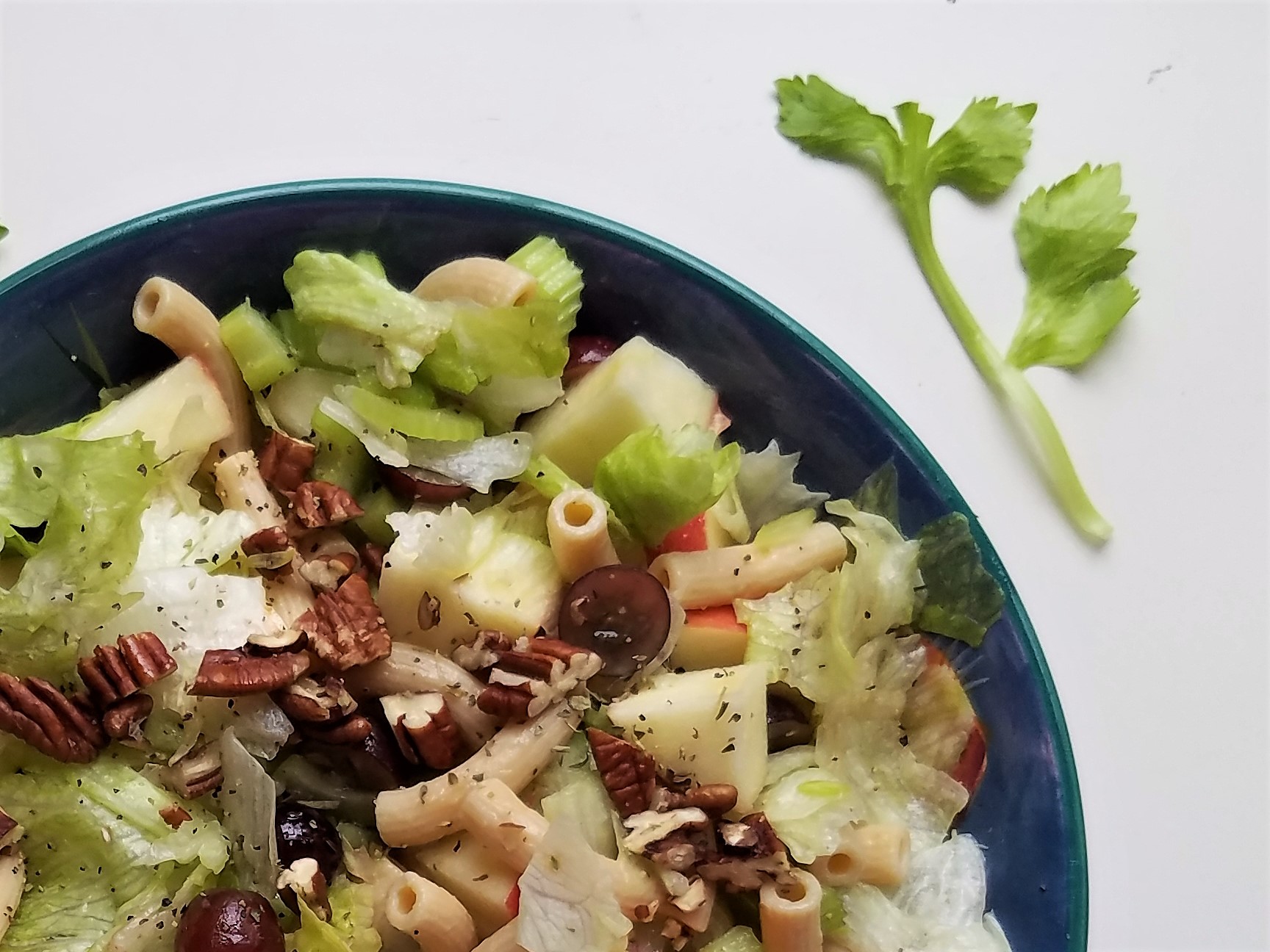 Oh, and you might be wondering what May Day is and the meaning behind the May Pole Dance.  Honestly, I only ever participated in May Day at that elementary school of mine so I don't know the exact history.  I believe the dance is ceremonial and dates back to really old times in England.  These days, especially in the U.S., we tend not to follow such traditionalist practices so it I think it is less common.  The dance and celebration that occur are in honor of the start of summer and the new life that it brings.  Thus, I felt it appropriate to share the story as I mention that I am so very into fresh recipes for summer!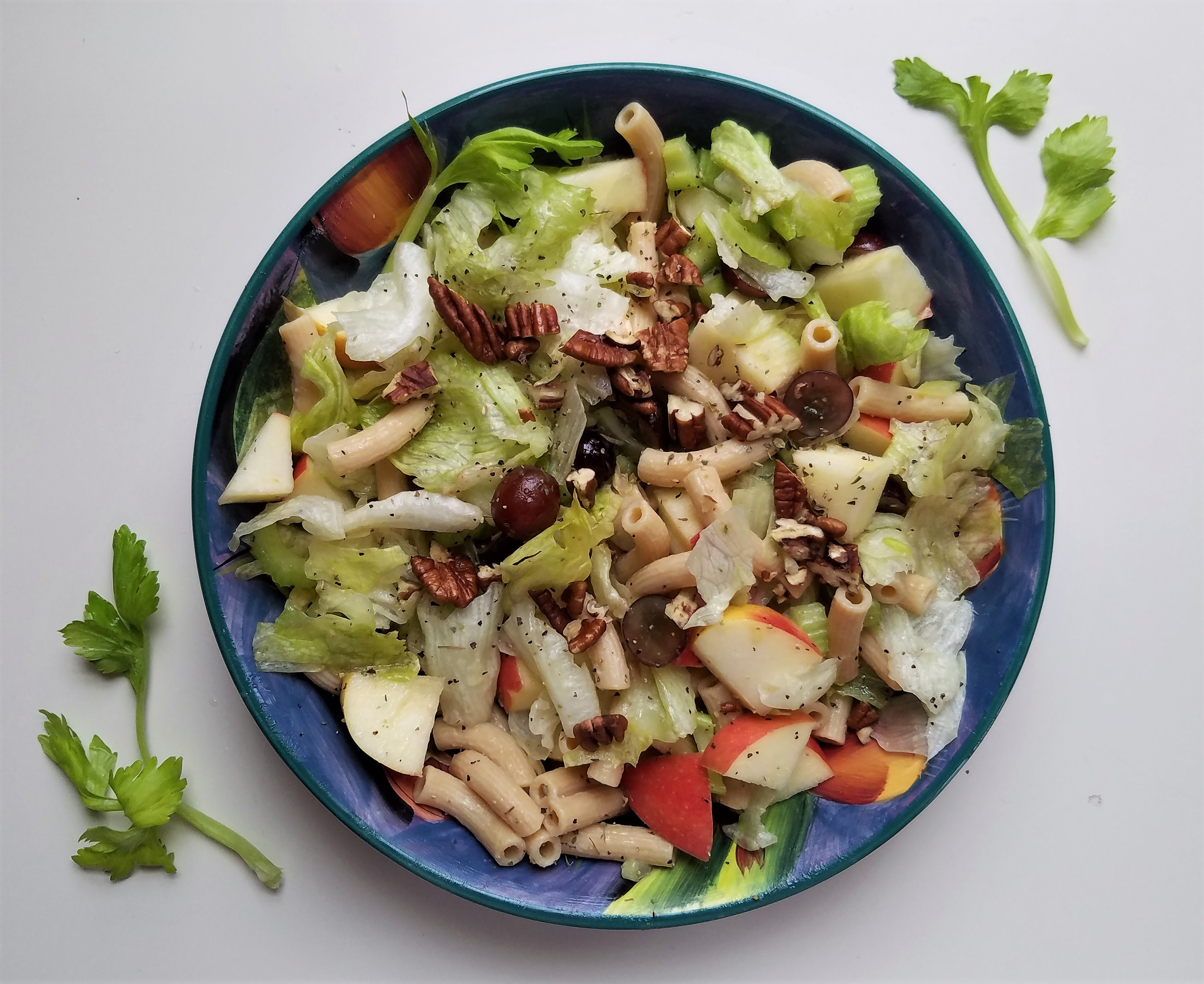 The warm weather has me craving chilled salads, sweet and juicy produce, and ingredients that won't weigh me down.  I called this dish a Fresh Salad with Pasta and Fruit because that's what it is.  It also has all of my favorite ingredients from chicken salad but without chicken 🙂 I know apples aren't technically considered summer fruit but they're around all year long!  Some light and crisp lettuce, plus, crunchy celery, adds to the hydrating factor of this salad.  A very important factor if you're dealing with hot temperatures like me.  #SoCal
As always, I made this recipe based on ingredients I had in my fridge but change it up to fit your needs.  Some darker leafy greens would work nicely instead of the iceberg.  Even try dried cherries instead of fresh grapes.
Have a happy month of May!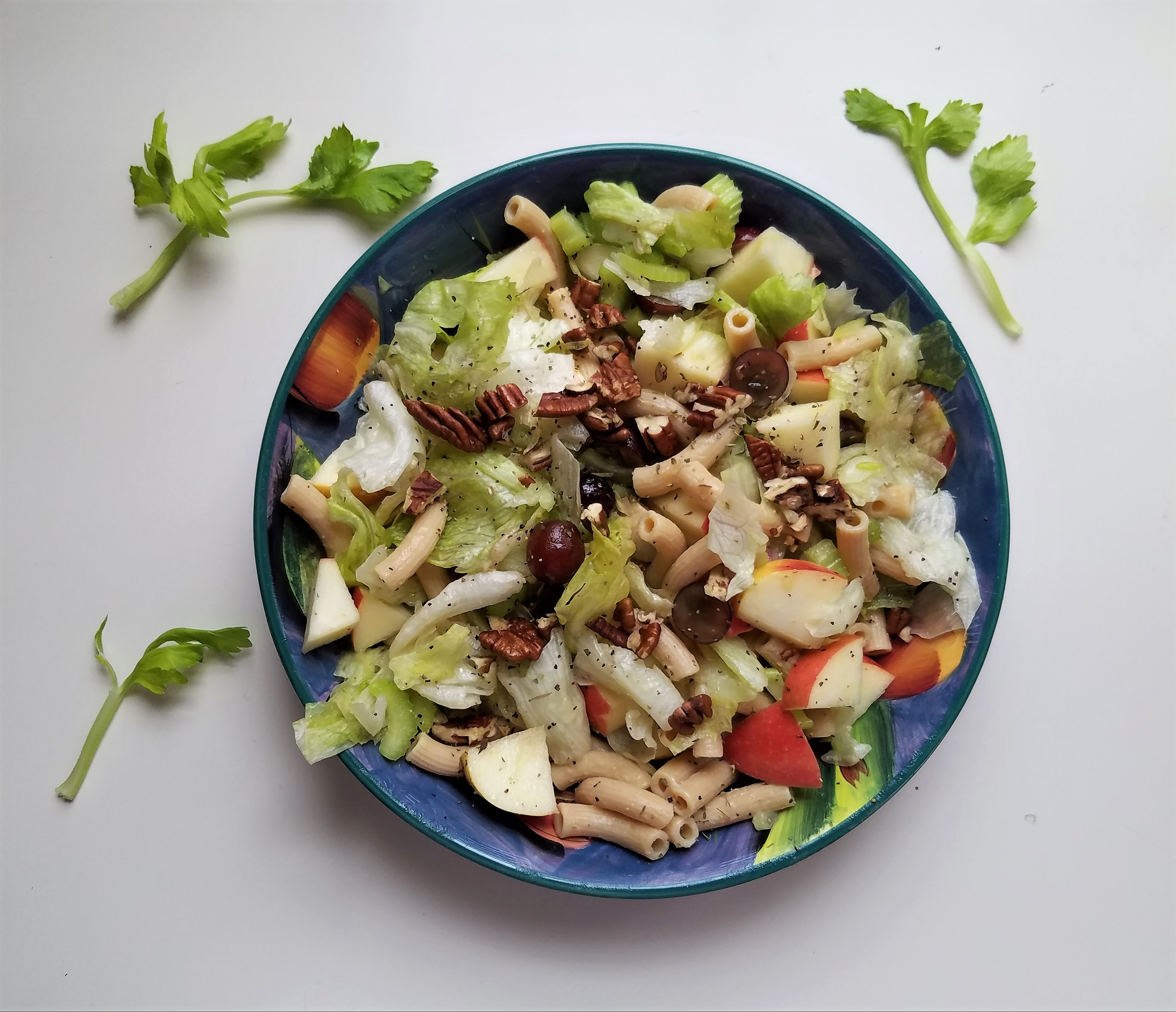 Fresh Salad with Pasta and Fruit
The warm weather has me craving chilled salads, sweet and juicy produce, and ingredients that won't weigh me down. It's kind of like a chicken salad but made vegetarian and I utilized what I had in my fridge. Feel free to change it up and sub in whatever greens you like.
Ingredients
2 cups of lettuce of choice (I only had iceberg but some kale, arugula, or romaine would be lovely!)
3 oz of Banza penne pasta (or other short cut pasta)
1 small-medium sized apple, chopped
1 small stalk of celery (or half a large stalk), chopped
¼ cup of red grapes, chopped in halves
Extras: black olives, sliced in half, and chopped pecans
Dressing is: 2 tsp olive oil, 2 tsp apple cider vinegar, 1 tsp maple syrup, and ¼ tsp dried tarragon.
Instructions
Set a pot of water on the stovetop to boil and cook the pasta for about 10 minutes or until desired doneness.
In the meantime, chop up the veggies and fruit. Add all ingredients to a serving bowl.
Drain the pasta water and let pasta cool for a minute before adding to the salad.
Drizzle the dressing over all ingredients and enjoy!