Alright, alright, alright!  How is everyone doing today?  It is Tuesday and it's time to break out the tahini! Can that be a thing?  Move over tacos, it's Tahini Tuesday! 😆

It's no secret that smoothies are my favorite thing ever and if I can sneak some vegetables in them, that's even better.  Too much fruit in a smoothie can spike my blood sugar and leave me crashing with hanger mid-morning.  That doesn't mean fruit is a no-go, it just means I need to include a little something extra to stabilize my energy and keep hunger at bay.  A recent discovery that I've made in regards to my smoothies is the power of HEALTHY FATS.
I used to be so scared of using oil or eating peanut butter and avocados (not necessarily together), but now I know that a moderate amount of fat is A-okay!  Plus, I eat mostly plant-based so when I include healthy fats, I'm add a satiating element to my meals.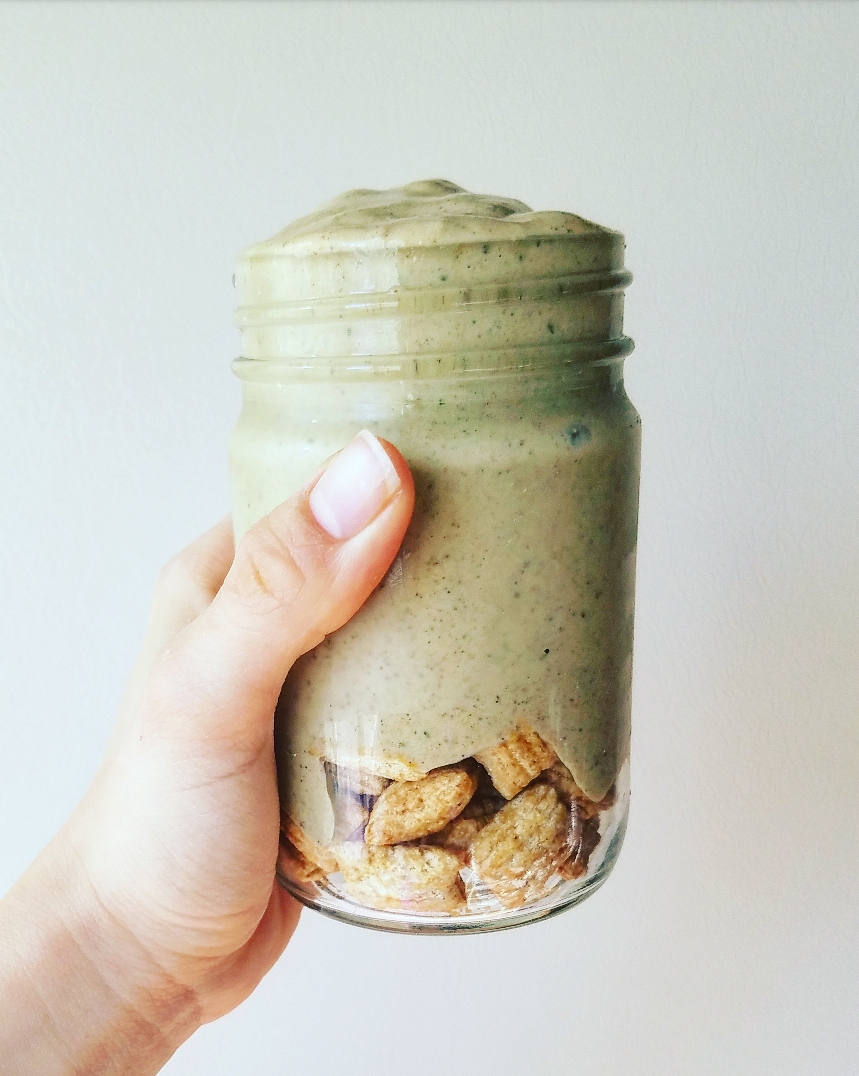 So, back to the Banana Tahini Shake!  Technically it could fall under the "smoothie" category but it is so rich and comforting that it feels like a shake to me.  Shakes are usually loaded up with ice cream, dairy milk, and sugar but mine is sweetened with banana.  It's more than healthy enough for breakfast for sure!  Plus, the addition of tahini really helps round out the smoothie/shake.  It is…
Uniquely satisfying,
Subtly sweet,
And perfectly thick.
I have been digging this for weeks now and I'm very excited to share it!  Let me know if you try it out 🙂

Banana Tahini Shake
Zucchini adds fiber, tahini adds satiating fats, and banana brings home the sweetness in this simple Banana Tahini Shake.
Ingredients
¼ large frozen zucchini (about ½ cup chopped)
1 med frozen banana
½ tsp cinnamon
¼ tsp turmeric
a dash of black pepper
½ inch knob of fresh ginger, frozen (I like the zestiness of it but you can sub ground)
1-2 tbsp of tahini,
1 serving of plant-based protein powder, optional
¾ cup - 1 cup unsweetened almond milk
Barbara's Bakery Puffins or other cereal, optional
Instructions
Add zucchini, banana, and ginger to a blender or food processor and ¾ cup of almond milk. Blend away! Then add the spices, tahini, and protein powder. Add more milk, if needed.
Serve the smoothie in a glass with some low-sugar cereal of choice, if desired. Best enjoyed with a spoon and straw.
Notes
I used The Natural Citizen Organic Protein but any other plant-based protein should work just fine!