When I was younger, my mom used to bake up cookies every few weeks to feed the sweet tooth that my sister and I had.  As a kid, nothing was better than a glass of milk and a belly full of cookies.  YES.  I had no self-restraint and never stopped at just one.  Homemade cookies are best when fresh so I would eat 4-5 that first day…and the second day…and maybe just two or three after that…if there were still any cookies left.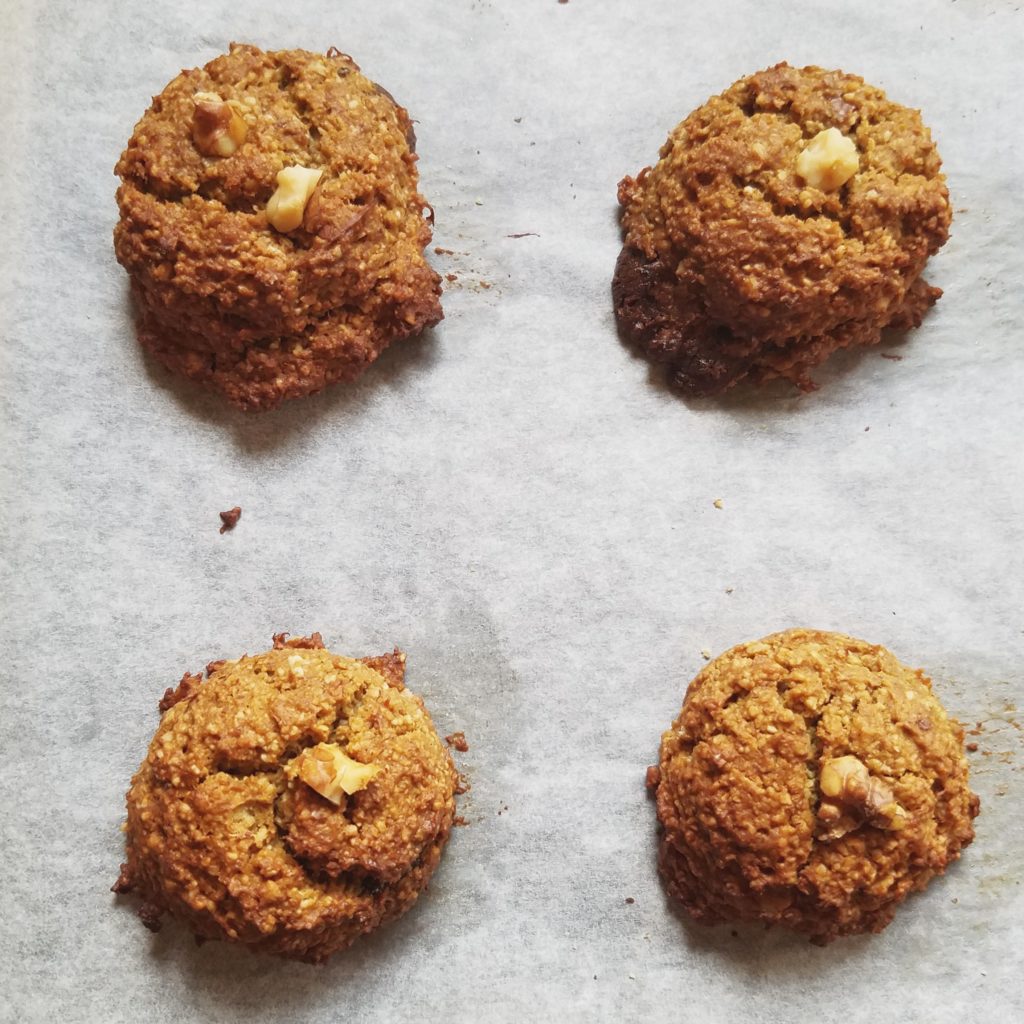 Sadly, traditional cookies have several cups of sugar, white flour, butter, plus additional sugary add-ins.  Yupp, I don't know how young Melanie did it!  If I tried to recreate my old 4-5 cookies indulgence these days I would definitely end up with a stomach ache.  Nowadays, I don't crave cookies in the same way.  Though, sometimes your girl gets a craving for healthified versions of old favorites.  Thus, I whipped up some cookies that I consider to be more nutritionally balanced.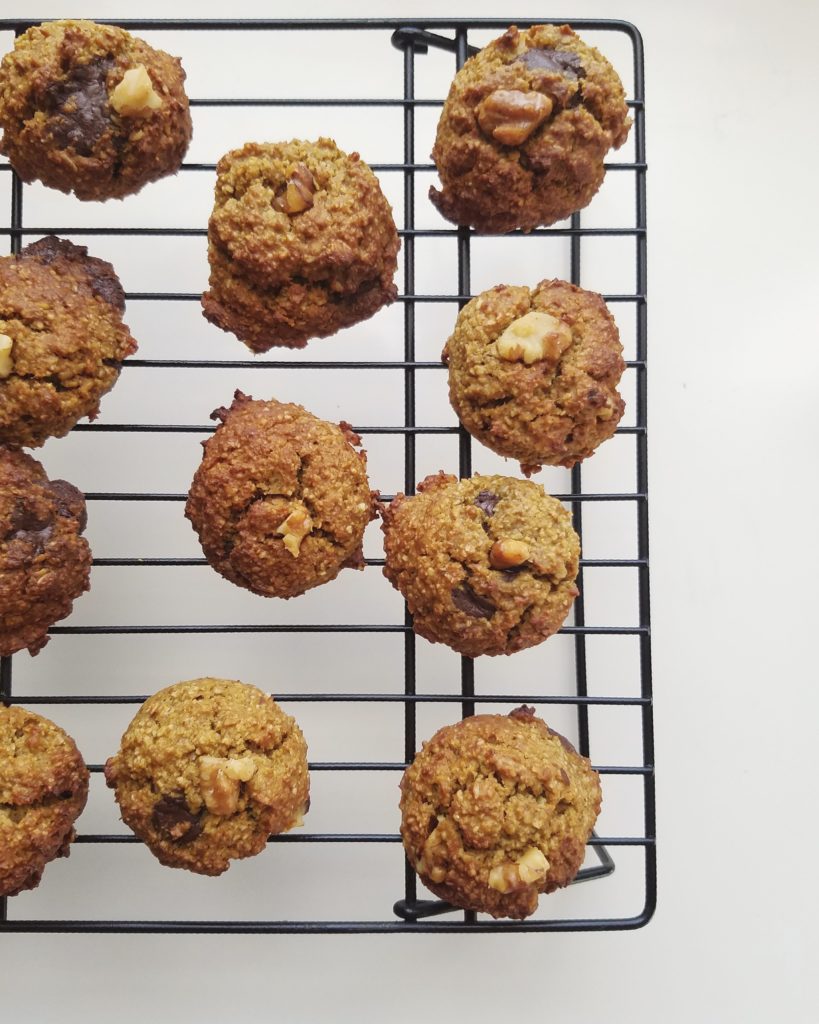 Ingredients breakdown:
We've got banana and pumpkin to soften up the cookies and a mere ½ cup of sugar to sweeten them up.  I am extremely cautious about my sugar intake and, ever since reading Woman Code, I try to avoid adding excess sugar unless absolutely necessary (sidenote: possible post on this in the upcoming future).  The fact is: cookies just don't taste like cookies without some kind of sweetener.  These are just lightly sweetened with a mixture of brown and coconut sugar.  Of course, you could add an extra ¼ cup of sugar for sweeter cookies.  Feel free taste-test the batter 😉  Though, I think you'll find there is something nice about the subtle level of sweetness in these.
Also, let's not forget about fats.  I know there are some cookie recipes out there that might bake up with simply banana but I like incorporating healthy fats into my food.  Why, you ask?  Well, fat helps slow the absorption of sugar and keeps me satiated.  Not to mention, it helps make the cookies crisp up on the outside and stay fluffy on the inside.
In addition, you can include up to a cup worth of dried fruit, nuts, ALOHA brand chopped chocolate, or whatever you like.  I went with a small amount of chocolate and walnuts to add a bit more healthy fats and protein.  Speaking of protein, definitely try adding a scoop of your favorite protein powder, if you'd like.  Sometimes my family can taste the protein powder in baked goods so I went with an unflavored plant-based protein powder from The Natural Citizen.  That is totally optional, though.  I'll provide alternatives to the protein powder in the recipe!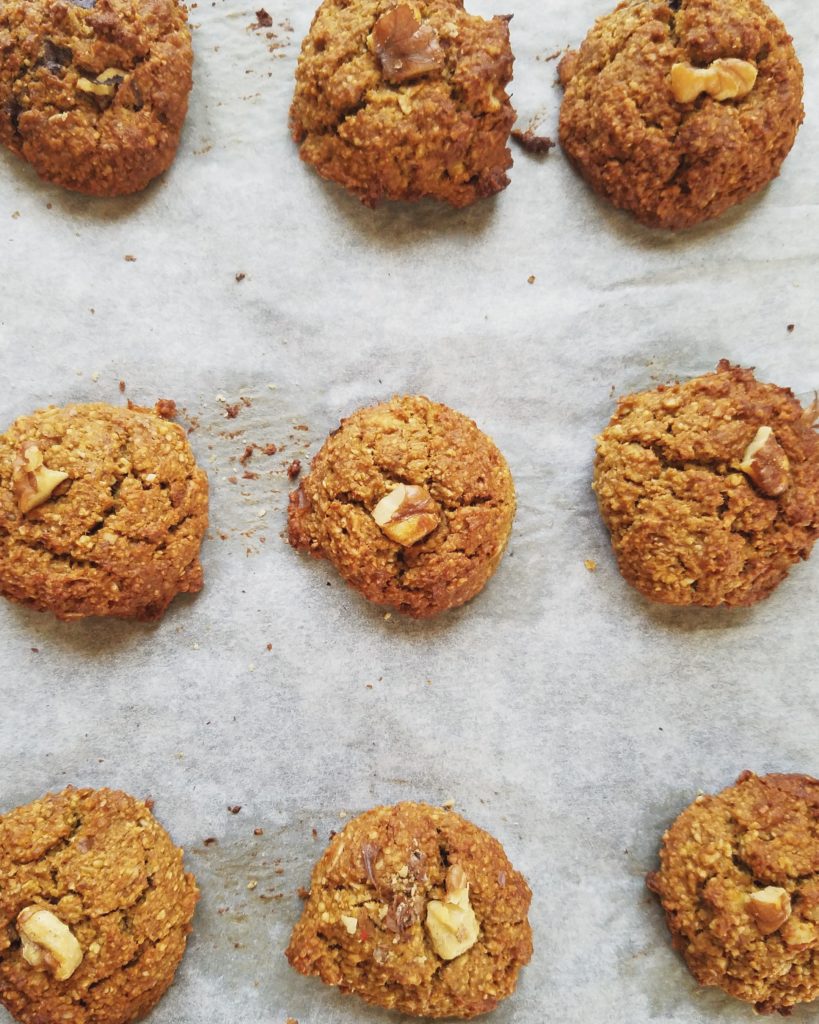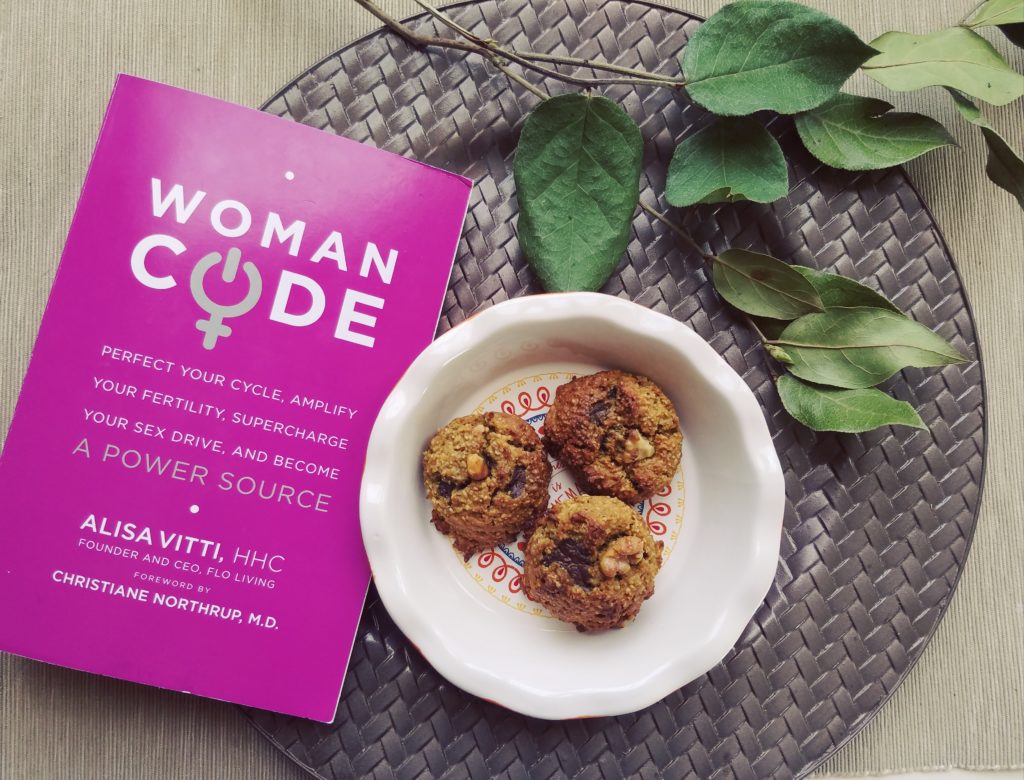 Without further ado, here is the recipe for the pumpkin cookies:
GF + V Pumpkin Cookies
I call these cookies while my sister likes to call them muffins. Whatever you call them, they are good. My sister is hard to please but I got a thumbs up from her with these cookies (or muffins). They are lightly sweet but still delicious!
Recipe type:
Snacks, Dessert
Ingredients
¼ cup mashed banana (about ½ a banana)
¾ cup pumpkin puree
¼ cup coconut sugar
¼ cup brown sugar
1 teaspoon baking soda
½ teaspoon salt
¼ teaspoon allspice
½ teaspoon cinnamon
½ cup melted warm coconut oil
1 teaspoon vanilla extract
½ cup of almonds, ground into meal/flour
1½ cups oat flour (blend from 1½ cups whole rolled oats)
½ cup whole rolled oats
2 servings of unflavored plant-based protein powder (½ cup worth)*
⅓ cup chopped dark chocolate
½ cup chopped walnuts, save some for topping
Instructions
Preheat the oven to 375°F and line a large baking sheet with parchment paper or baking mat.
In a medium bowl, combine the banana and pumpkin puree. Then, stir in the sugars, baking soda, spices, coconut oil, and vanilla extract.
Use a food processor or blender to process the almonds to make a fine flour. Repeat for the oat flour.
To the wet ingredients, add the processed almond and oat flour, along with the whole rolled oats and protein powder.
Next, fold in the chocolate chips and half of the walnuts. Use a large cookie scoop to drop dollops of the cookie dough onto the baking sheet. Place a few walnut crumbs on top of each cookie.
Bake for 13 to 14 minutes or until the tops have browned (don't under-bake). Let the cookies cool on the baking sheet for a minute before moving to a wire rack to cool for 10 to 15 minutes more. Bake the remaining cookie dough until all is finished.
I know cookies are irresistible out of the oven but if you wait for them to cool, they will be much better. They won't be as fall-apart delicate and their flavor will be more visible.
When cookies are completely cool, they can be stored in an airtight container or frozen.
Notes
*I use The Natural Citizen's unflavored Organic Protein in this recipe. A flavored protein may mess with the taste so I recommend this one. Alternatively, you can easily substitute the ½ cup of protein powder for more oat flour or almond flour.
Evidently, if any of the ingredients are cold, that will make the coconut oil clump up. Small specks are okay but large clumps need to be dissolved. You can lightly warm the batter in a microwave safe bowl and proceed with the recipe.
Instead of grinding almonds yourself (which I recommend for the freshest taste), you can also use ½ cup almond or peanut flour.
Cookie recipe adapted from Love and Lemon's Pumpkin Oatmeal Chocolate Chip recipe.
As always, please let me know what you think if you give this recipe a try!  Leave a comment below or tag me on Instagram.