First and foremost, thank you to Attune Foods for making this post possible!
---
If you've been hanging around here for any short amount of time, you know that I'm a big fan of sweet treats and breakfast foods.  What may come as a surprise is how much savory food appeals to me, too!  As a matter of fact, I love spiced dishes like curries, southwestern fajitas, or my Tex-Mex quinoa taco "meat".  As for main dishes, I've been meaning to expand my blog's recipe archives with some yummy veggie patties or meatballs for a lunch/dinner entree. 
Enter: Sweet and Smoky Meatballs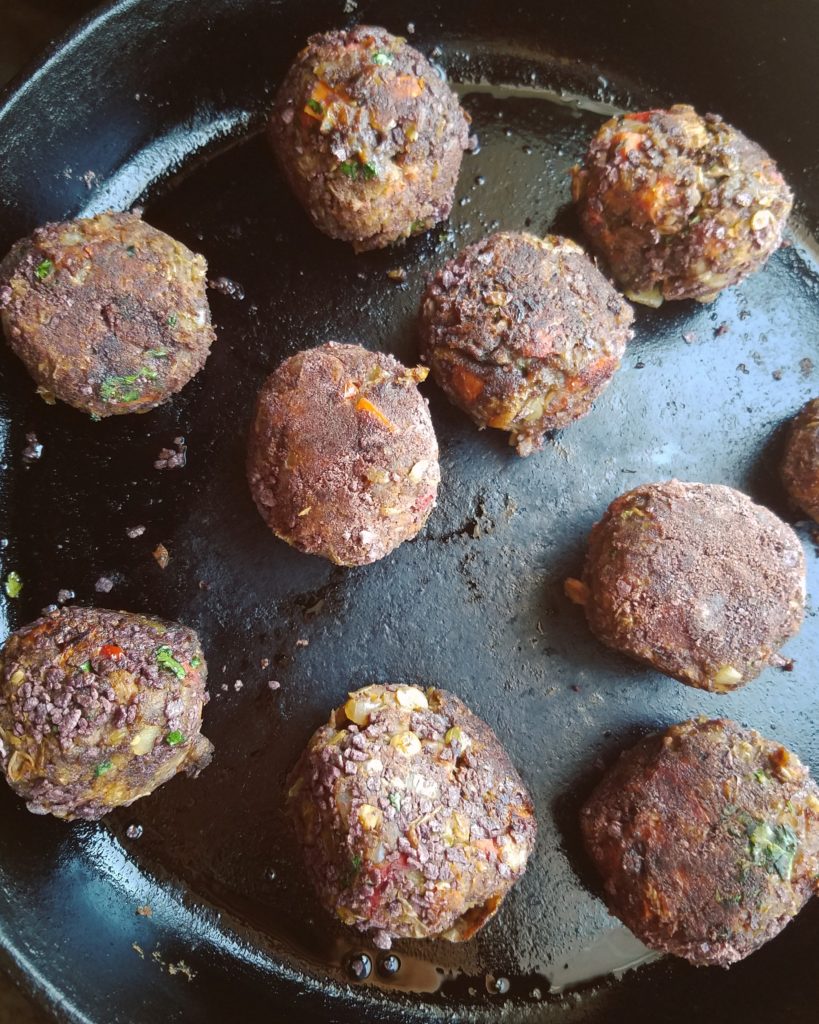 I'm all about making recipes as easy as possible so these plant-based meatballs come together in little time and without any wild ingredients.  The only thing you might need to pick up is a box of Purple Corn Flakes Peace Cereal.  When Attune Foods sent over a few products for me to try, I knew the pretty purple corn flakes would be fun to add texture to some vegetarian patties. 
I'm not too big on a bowl for breakfast but cereals can be such a versatile ingredient for cooking!  The purple corn flakes are what provides the sweetness in the "sweet and smoky" element of my meatballs.  These non-GMO corn flakes are also crispier than traditional corn flakes so that contributes a unique texture and flavor that you won't want to miss!  As a bonus, I love that the cereal is made from organic corn flour and organic brown rice flour so the meatballs are gluten free! 
Sometimes veggie patties or meatballs can be a miss with my meat-eating family but I received pretty great reviews on these!  Looks like I'll be cooking them up again soon. 😉 Let me know if you try them out!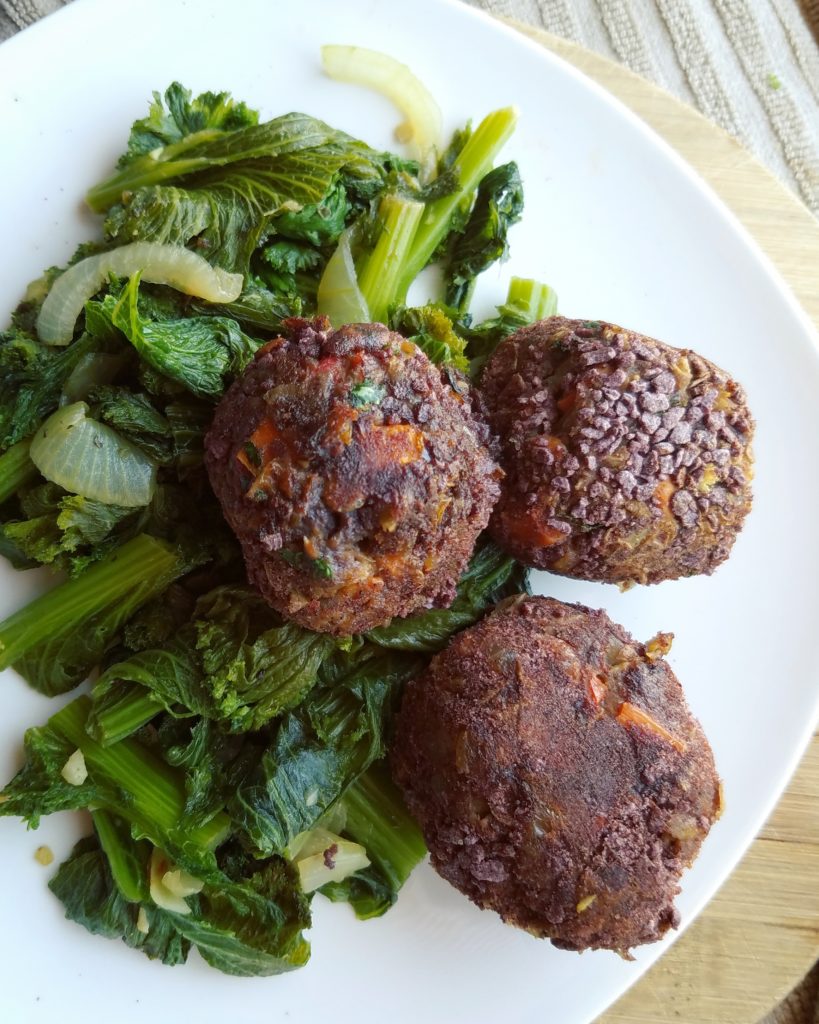 Sweet and Smoky "Meatballs"
These plant-based meatballs come together easily, in little time, and without any wild ingredients.
Cuisine:
Vegetarian, Vegan
Ingredients
Olive oil, for cooking
½ cup white onion, chopped
½ cup carrot, diced
1 clove of garlic, chopped or minced
Salt and pepper
1 ½ cups lentils or white beans, well-drained*
½ tsp cumin
1 tsp chili powder
½ tsp smoked paprika + ½ tsp for coating
2 tbsp fresh cilantro, chopped
⅓ cup packed chopped tomato (about 1 small roma)
1 cup Purple Corn Flakes Peace Cereal + ¾ cup for coating
Lime juice, optional for serving
Instructions
In a cast-iron skillet, on medium heat, warm olive oil. Add sauté the onion, carrot, and garlic until soft. Then, remove from heat.
Using a food processor, grind 1 cup of the purple corn cereal until a fine meal is achieved.
In a bowl, mash the drained beans or lentils and add spices. The texture should be mashed and chunky but not pureed. Add in the skillet mixture, along with the cilantro, tomato, and ground cereal. The mixture should look thick and slightly on the dry side.
To make the coating, add the remaining ¾ cup of the cereal, along with ½ tsp of smoked paprika, to the food processor. Process until a choppy meal is achieved. Then, transfer to a zip-top baggie.
At this point, cover the bowl of the meatball mixture and store in the fridge for later or form into 10-12 balls for immediate use.
When ready to cook, heat up a few tablespoons of olive oil in a cast-iron skillet. Add one meatball to the baggie with the cereal coating and shake. Add the cereal-coated meatball to the skillet. Repeat with remaining meatballs. With the pan on medium heat, continue rotating the meatballs until they are browned all over.
Serve warm with a squeeze of lime. They pair nicely with a salad or sautéed greens. Cauliflower mashed potatoes or roasted veggies would also be delicious.
Notes
*I tried two different versions of this recipe using white beans and then lentils. The white bean version seemed to allow a slightly more prominent smoky flavor but the lentil version is excellent, too. I suppose you could substitute other beans like black beans, though I haven't tested that myself.
Thank you to
Attune Foods
for sending me Peace Cereal and allowing me to showcase a recipe with their purple corn flakes.  See their
store locator
to find Peace Cereal near you.