I've been carefully adjusting my lifestyle over the past few weeks to be in line with the FLO Living Protocol.  If you missed my A Healthy Lifestyle: Is It Worth It? post, then check it out and that will bring you up to speed.  The book WomanCode by Alisa Vitti outlines different food, exercise, and lifestyle choices we can make to support each phase of our cycle.  The luteal phase is the third of four phases in a woman's monthly cycle: follicular, ovulatory, luteal, and menstrual.  I'm going to share what the beginning of my cycle-syncing journey looks like, starting with luteal phase.  I just dove into syncing with luteal rather than waiting for the first phase to start again.  No better time like the present, after all!
Luteal Phase Expectations:
The beginning of the phase is characterized by fairly good energy from the previous follicular and ovulatory phases (posts for another day).  Though, the energy that was primarily invested in social gatherings and communication is now introverted.  Luteal phase can increase "desire to nest" and "take care of domestic chores".  In addition, it is a time to attend to administrative tasks on the to-do list (Vitti 150).  Halfway through the luteal phase, energy slowly begins to drop as estrogen levels begin to rise.  In addition, this is the time when pre-menstrual symptoms make an appearance.  It's not uncommon to have "symptoms such as bloating, irritability, headache, mood swings, and cravings" (150).
For the first half of the luteal phase, I felt fine.  I felt like my normal self, moderate amount of energy, and clear-headed.  I was eager to sort through my closet and get rid of old notebooks, folders, and books that I've stored but no longer use.  In addition, I felt very meticulous about the cleanliness of my house: everything from my bathroom to the carpets to light dust that built up on the walls.  I wanted to tackle it all!
About 5 days into the phase, PMS symptoms emerged.  My body felt noticeably puffy and I struggled to dedicate focus to tasks.  I noticed light headaches 1 or 2 days in the afternoon, as well.  My energy began to decline more and more through the next days and into the menstrual phase.
Exercise on Luteal Phase:
As previously stated, energy levels are still pretty high at the beginning of luteal phase.  So, it's fine to carry on with very active, high intensity exercises.  Although, the halfway point is best to begin tapering off that.  Instead, pursue "walking, Pilates, gyrotonic training, and vinyasa yoga" instead (152).  The activities still provide muscle activity, without battling the feelings of sluggishness or water retention that can come towards the end of luteal phase (152).
I killed it in weight training for the first part of my luteal cycle but eased off into bodyweight-only, strengthening exercises towards the end.  I liked doing Tone it Up toning workouts with light/no weights and vinyasa yoga practices with Yoga with Adriene.
Food on Luteal Phase:
The foods WomanCode recommends for this phase "are rich in b vitamins, calcium, magnesium, and fiber" (151).  The purpose of these nutrients is to target fluid retention, and assist organs in eliminating estrogen that tends to build up in the body.  Vitti recommends roasting or baking vegetables to increase their sweetness, and thus, making them more satisfying to wade of cravings.  Complex carbohydrates are also beneficial for the same purpose and to keep "serotonin and dopamine levels in the brain" at stable levels (151).
I love eating leafy greens but cold salads were not what I was craving.  Warm foods with depth to them allowed me to feel like I was eating a hearty meal while still being clean.  I loved sautéing onions, garlic, and greens as a base for a meal.  For example, check out this photo for how I made some addicting sautéed collard greens with sweet potato and brown rice.  Besides that, I was digging warm salads, stews, and simply trying to get creative with the recommended foods (i.e. adding mint to smoothies).
Peep A Day in My Luteal Phase Meals:
Breakfast: Cauliflower Berry Layered Smoothie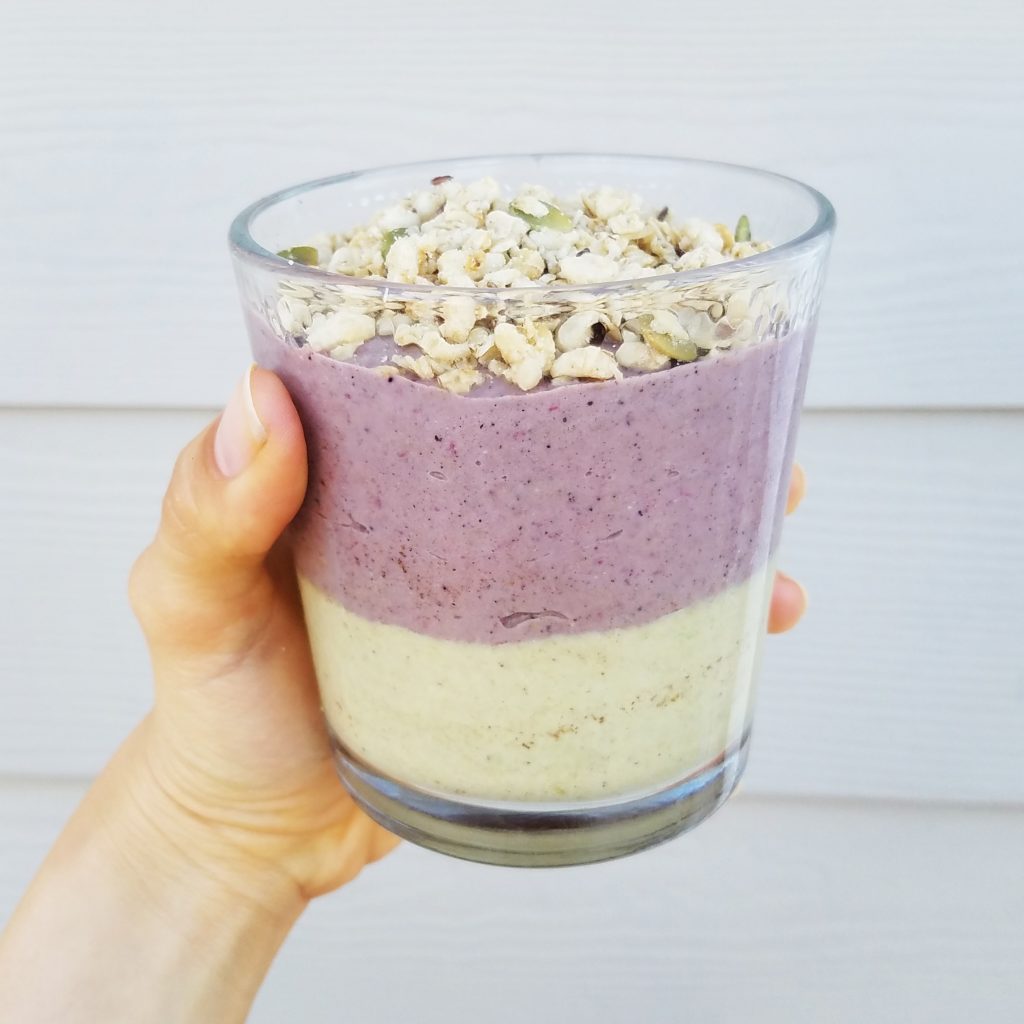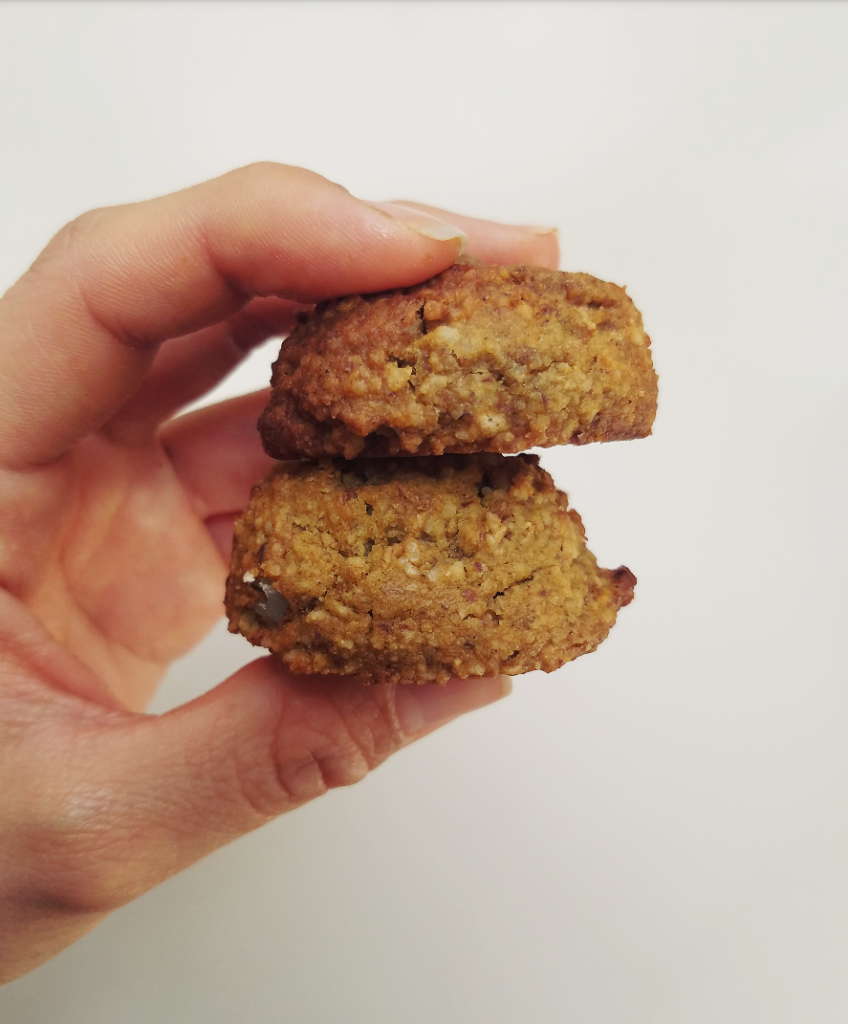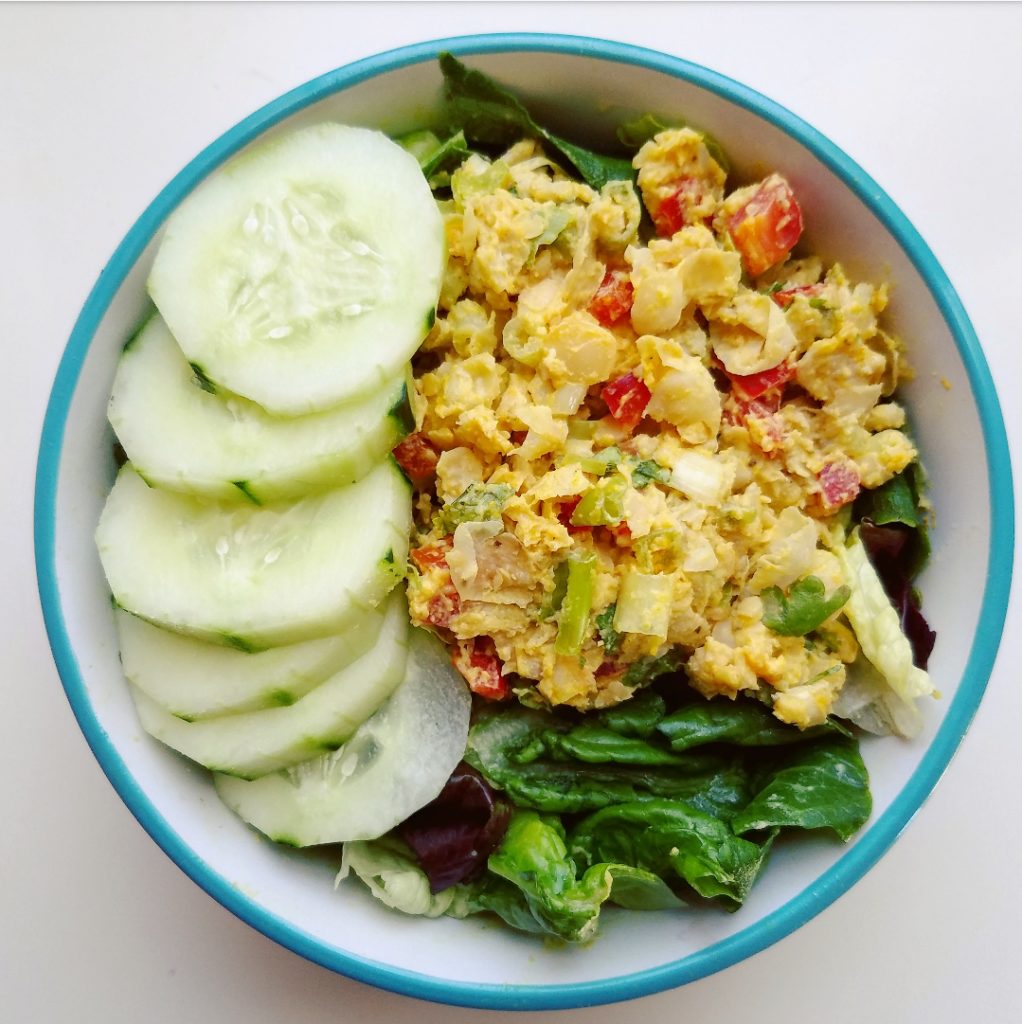 Snack: Hummus on Cucumber Rafts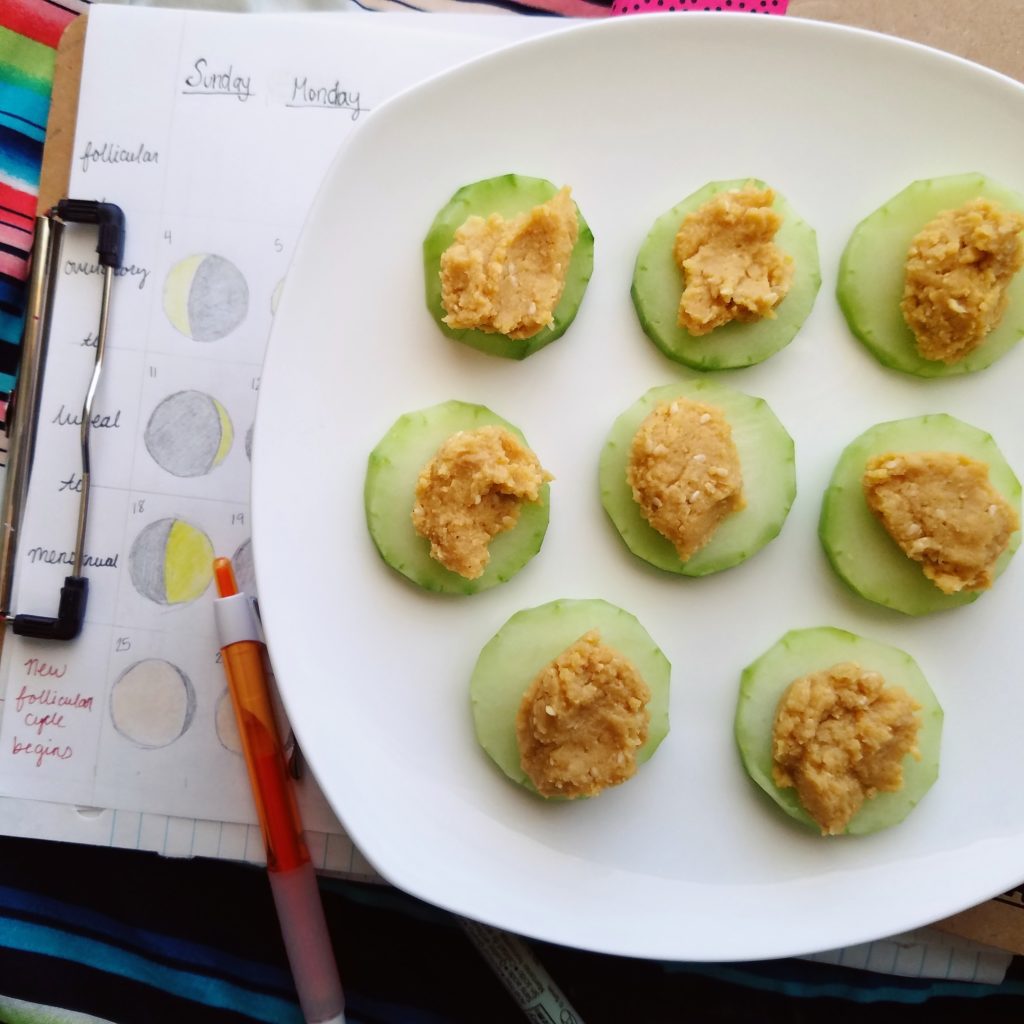 Dinner: Cookie and Kate's Love Real Food Cookbook Cauliflower Farro Salad
(I don't necessarily try to eat cauliflower or any other vegetable several times in one day but every once in a while it happens)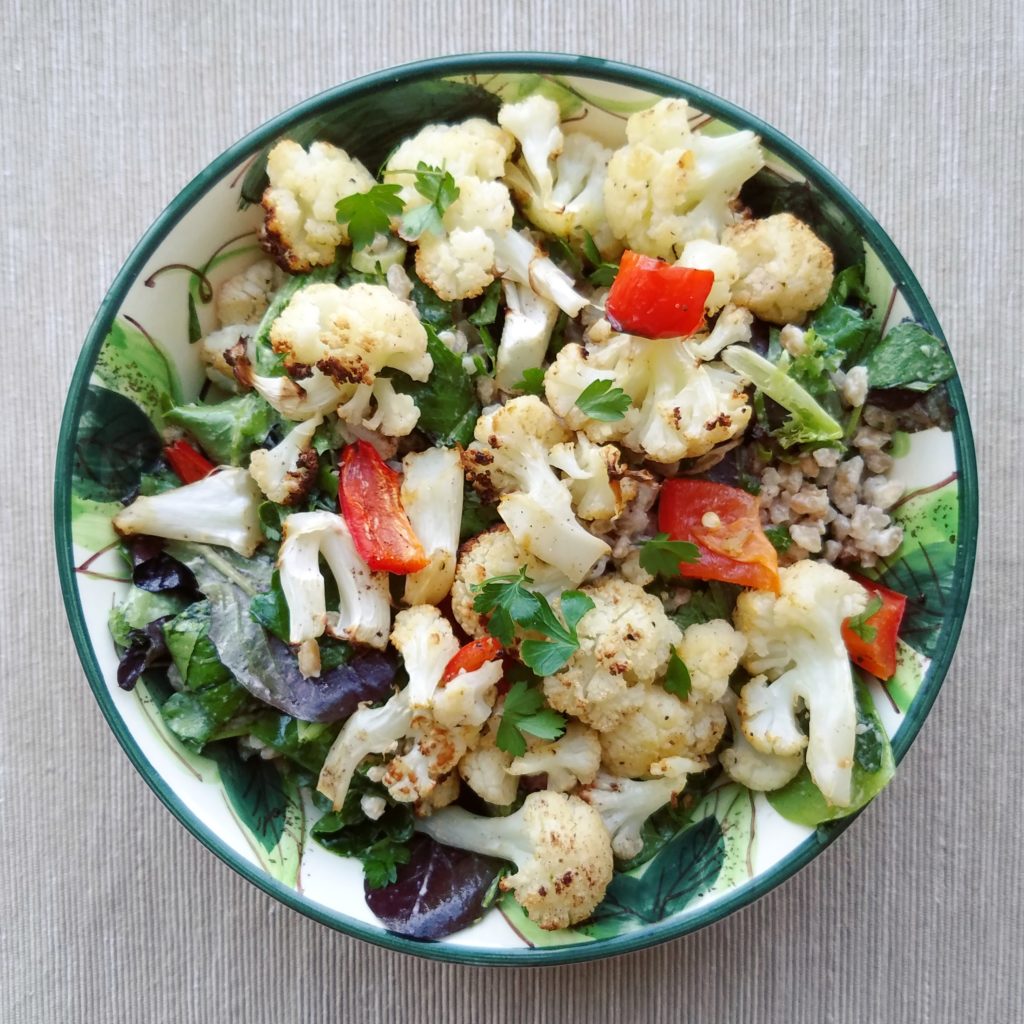 Thanks for reading!  I hope I've been helpful in providing a peek into FLO Living Lifestyle.  I really enjoy the way my body and mind feels when I'm eating living in a way that supports my hormones.  I'm happy to answer any questions you might have about WomanCode or what I'm doing for FLO or anything.  Comment below or email me!

Also, if you are even mildly interested in cycle-syncing for your hormones then definitely check out WomanCode.  It is one of the best purchases I've made as of late.  That's also why it made it onto my favorites list for the month of June!