Oftentimes, I make some really fantastic smoothies and I don't measure.  If you know me, I'm all about cooking with as few utensils as possible!  Simply, a handful of frozen this or that and a dollop of nut butter save me from having to wash measuring cups.  As much as I love smoothies, I dislike having to wash the blender and blades so I want to minimize dirty dishes!  For the sake of perfecting my beet and greens smoothie, I whipped out the measuring cups.
As you know from my Beet Brownies and Beet-filled Recipes Round-Up, beets are one of my favorite vegetables to cook with.  Previously, I've added beets to smoothies but they have a way of taking over and overwhelming the smoothie.  They are just as sweet as berries and filled with antioxidants so I decided to try subbing my usual berries for a quarter of a roasted beet.  That was the perfect subtle way to sneak in the beet and keep the smoothie lightly sweet.
Also, just like my Carrot Mango Tumeric Smoothie, this Beet and Greens Smoothie is a thinner consistency.  I like my thick shakes but right now I'm on a kick with these drinkable smoothies.  Though, it's not so thin that you couldn't use a spoon—I still do! 😉
Additionally, I've been adding ashwaganda and maca powder to my smoothies for the past few months.  I use Maju Superfoods brand which is affordable and a little bit of powder really goes a long way.  They are not necessary for taste but they have health benefits, such as hormonal regulation, that I enjoy.  It's a little soon for me to see benefits but smoothies are the easiest way to incorporate them!  Of course, you can totally make the smoothie without the boosters.
Let me know what you think if you try out this Beet and Greens Smoothie! 🙂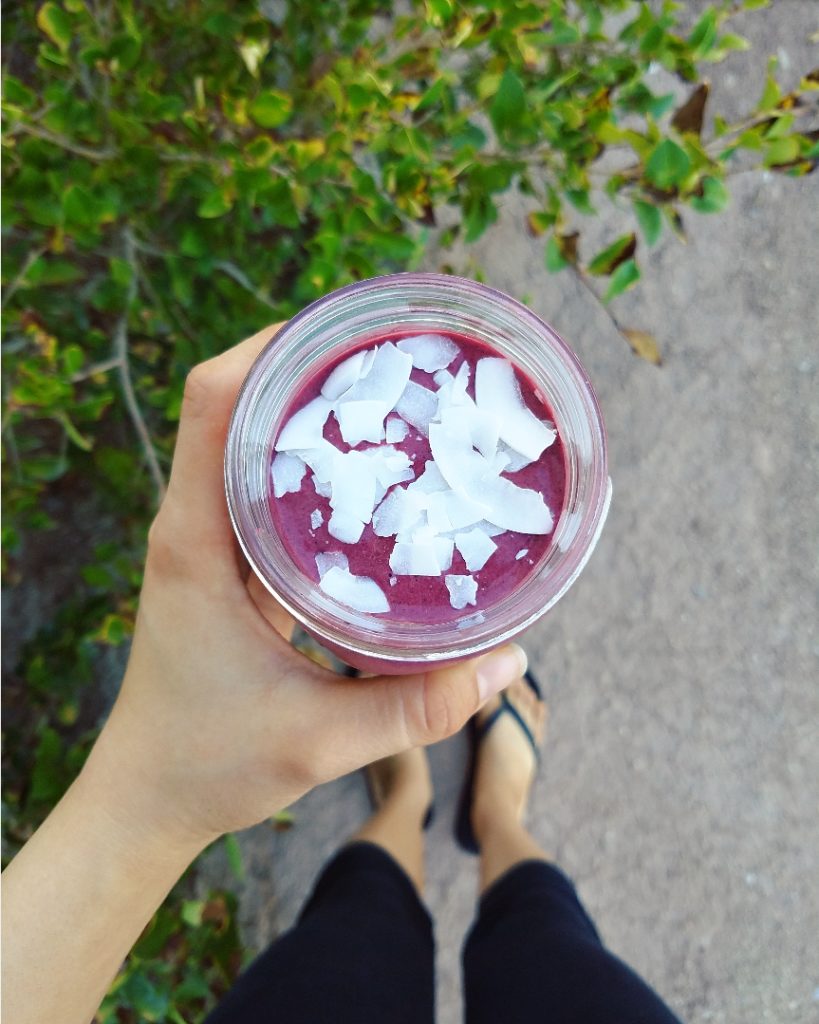 Beet and Greens Protein Smoothie
This smoothie makes perfect use of the beetroot and its greens. Any leafy greens will work though! The ingredient combination makes for one modest-sized smoothie. It's sweet and zippy and so refreshing!
Ingredients
2 handfuls ~ 1 cup fresh or frozen leafy greens (I used beet greens)
¾ cup cashew milk or chai tea*
½ cup sliced and frozen zucchini
½ medium frozen banana
¼ large roasted and frozen beet root ~ ¼ cup
½ inch knob of frozen or fresh ginger root
a cube of frozen aloe vera juice (optional)
1 tsp cacao powder
a scoop chocolate plant-based protein
1 tbsp ground flax
½- 1 tsp cinnamon
1 tbsp almond butter
½ tsp ashwaganda root powder (optional)
½ maca powder (optional)
Instructions
First, add the greens and liquid to a blender and blend up until smooth. I find this prevents difficult-to-break-down greens from leaving flakes in the end result. If you have a high powered blender, feel free to throw everything in at once.
Next, add in the all of the rest of the ingredients and powders, if using. I find it best to throw the frozen ingredients on top of the powders so that they don't fly up and stick to the sides of the blender.
Finally, enjoy the smoothie as is, with a sprinkle of extra cinnamon, coconut flakes, or some granola on top.
Notes
*Milk is the preferred choice in a smoothie but I tried some brewed and cooled chai tea in it and that tasted wonderful! Feel free to use chai or herbal tea for an added depth of flavor!