What do you guys look for in friends? Personally I look for qualities like: day people as opposed to night owls. Also, my friends need to be accepting and at least slightly interested in the same indie romance movies as myself. Oh, and they must love peanut butter. Hmm am I being too particular? Maybe that's why it's just me at home eating this skillet cookie…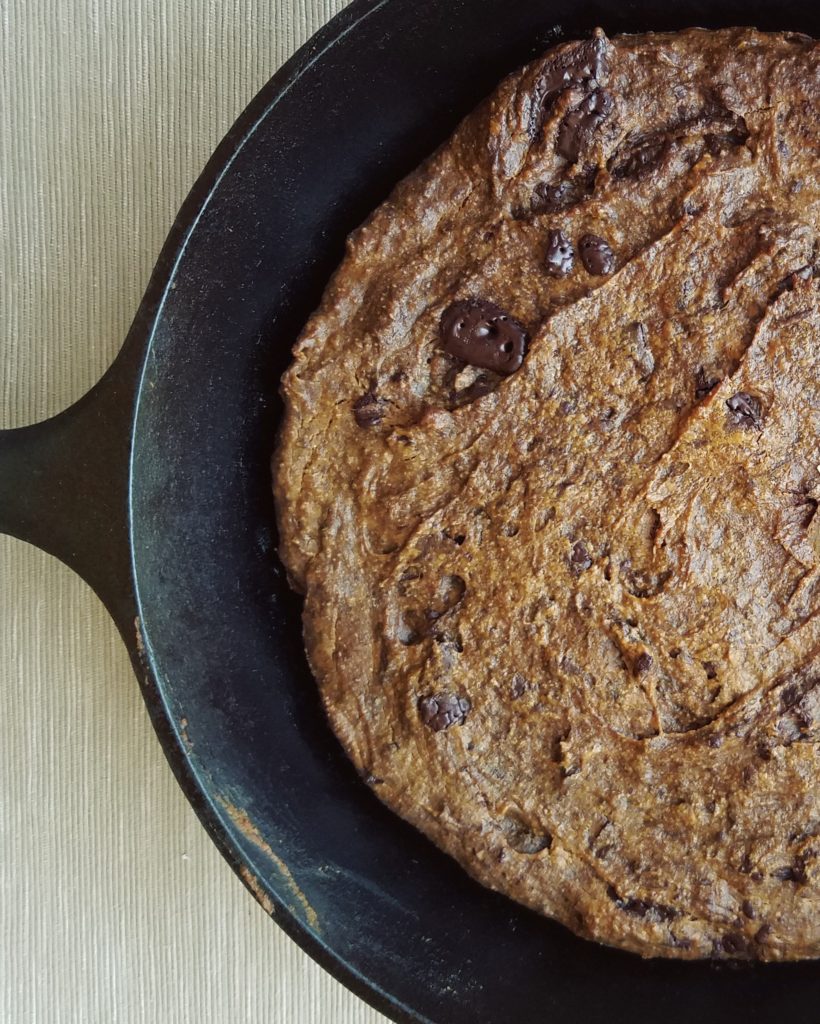 Well, if you fall into any of the above qualities, then I've got a peanut power skillet cookie for you!
For a while, I've held onto this giant tub of peanut butter powder without any real use for it. It tastes nice in smoothies but I literally have so much that I got experimenting with other ways to use it. Typically, gluten-free skillet cookie recipes, like the one from Rachael's Good Eats, are made from almond flour. So, I decided to try subbing almond flour for the peanut butter powder. The cookie doesn't rise much but it is so moist and delicious nonetheless!
You'll also notice the ingredients list is pretty low sugar for a cookie. I think the cookie is sweet enough on its own so I went with Scharffen Berger's 99% cacao baking chocolate as an accent. Dark chocolate requires a bit of an adjustment on your taste buds but I've come to love it. You may also remember I use the Scharffen Berger cacao nibs and cocoa powder in my Cocoa Coconut Rustic Banana Granola!  Their baking products are truly quality.  Though, you can use whatever chocolate you like.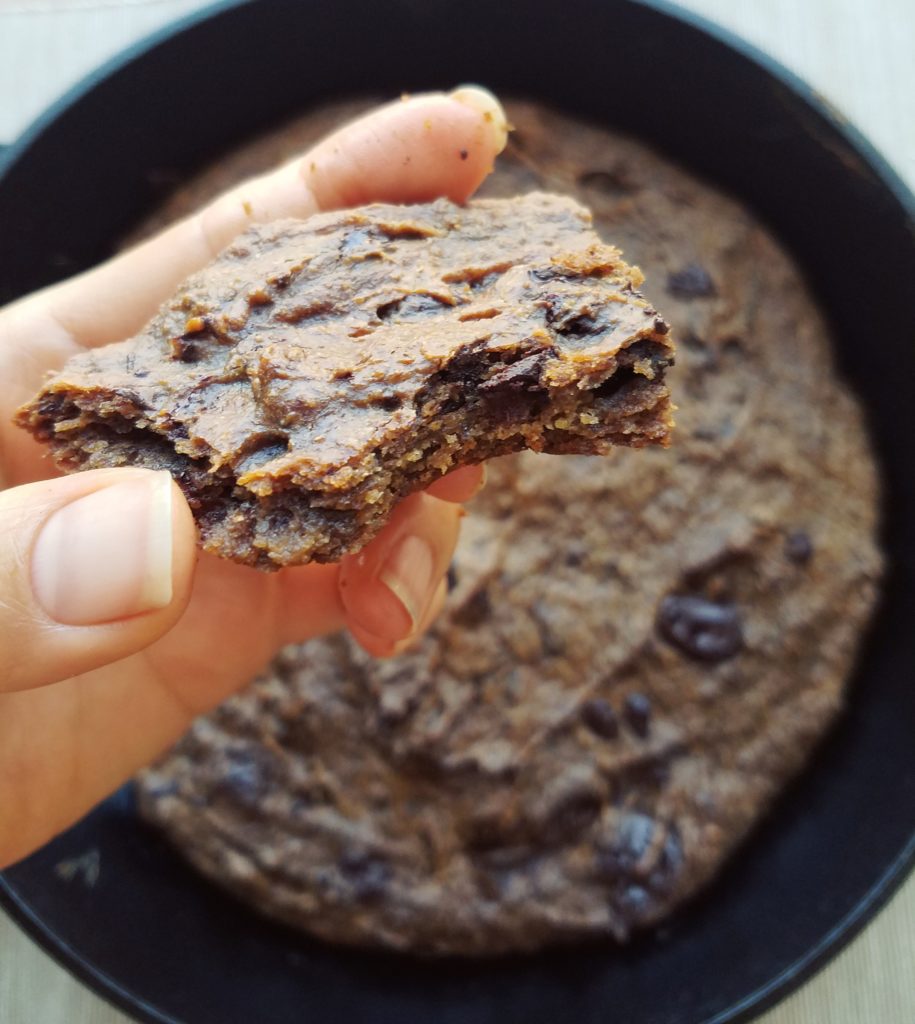 Happy baking!
Peanut Power Banana Cookie Skillet
This gluten free skillet cookie is packed with plant protein in the form of peanuts! It's refined-sugar-free and relatively low in sugar overall. Just a little bit of natural sweetness from the banana and maple syrup!
Ingredients
2 flax eggs ~ 2 tbsp ground flax + 3 tbsp water
2 bananas~ ¾ cup mashed
¼ cup coconut oil
¼ cup peanut butter
2 tbsp maple syrup
2 tbsp water
½ tsp salt
2 tsp vanilla extract
½ tsp cinnamon
½ tsp baking soda
1 ½ cups peanut butter powder
3 tbsp coconut flour
⅔ cup chopped dark chocolate
Instructions
Preheat oven to 325 F and grease an 8 inch skillet or 8x8 inch baking dish with coconut oil.
In a small bowl, make the flax eggs and let set for a few minutes. Use a large bowl to mash the bananas until no chunks remain. Add the coconut oil and peanut butter. Then, the flax eggs. Stir in the salt, cinnamon, baking soda, and vanilla extract. NOTE: Make sure your ingredients are room temperature or else the coconut oil can freeze. If this happens, simply place in the microwave for 30 seconds to slightly warm up.
Once wet ingredients are combined, mix in the coconut flour and peanut butter powder. Then, stir in the chopped chocolate, saving some for the top.
Bake for 25-30 minutes until the center is set. The outside will be brown but do not fear! It is not burnt or dry inside. At this point, turn off the oven and let it sit for 10 minutes before pulling it out and letting it cool. I haven't tried not doing this extra step but I think you could let it cool out of the oven, too.