Hello beautiful souls!  I've missed you!  The whole two jobs, no spare time thing has really put a damper on social time.  In case you didn't know, I got hired for a seasonal job back in October and, not long after, was offered a full time job elsewhere.  I've been juggling the two at the sacrifice of social media, my loving blog, and communication with anyone who isn't a coworker or family living in my house.  As the month soon comes to a close, I foresee some more time for me to get back to all of that! 
For now, I've got a list of things I've loved over the past few months.  My last monthly favorites post was back in September and much has happened since then! I can't commit to a monthly favorites post at this time but I've got a huge list of goodies to keep you occupied.  Be sure to tell me what you're loving in the comments down below or on Instagram!
Visual Favorites
Hallmark Channel
As far as TV goes, Hallmark Channel is where I'm at! Hallmark Channel is putting out 20 new movies this holiday season.  While it is almost over, you can find a holiday movie airing at any hour of the day on the channel—along with its partner channel Hallmark Movies and Mysteries.  The cozy, sweet, and romantic movies are all I need to make my December feel like Christmastime.  A few film favorites are: Marry Me at Christmas, Miss Christmas, and Christmas in Angel Falls.
73 Questions with ______

Recently, I went on a video binge over on the Vogue YouTube channel.  They have a series called 73 Questions with different celebrities.  It is such a fun, laid-back way of asking questions that tell you a lot of interesting things about the person in a short amount of time. See my woman crush Emma Stone's 73 Questions video here!
Lifestyle Favorites
I was on a big lemon/ apple cider vinegar warm water kick and now tea is my morning cup of choice. This one legit smells like hot chocolate but the depth of flavor is unlike any other tea I've tried.  Once before, I had a plain mushroom tea that tasted like bitter broth but I guarantee Reishi Detox is yummy even for mushroom haters.
B-Complex Vitamin
As you may have heard, supplements can't fix a bad diet.  Supplements are only meant to assist in health not be the sole solution.  I eat pretty healthy (hello, have you seen my Instagram photos?) but, with the addition of B vitamins, I have seen noticeable effects.  I've tried taking a B12 vitamin but I really find that the B complex is the best.  If you take too much of one, you might be lacking in the others so a complex ensures you're getting all the vitamins you need.  I was taking Nature Made B Complex plus a B6 vitamin until I found this Solgar brand at Vitamin Shoppe.  Both work but the variety of B vitamin levels in the Solgar one allow me to meet my needs in one bottle!
Protes Chips
I'm making efforts to not be a carb monster so protein-filled snacks are a great addition to my meals!  So, I'm definitely not a chips person or a crunchy food person usually but these are different.  The Protes chips are light and crispy and quite flavorful! The bags are small but satisfying—and the savory and dessert flavors are both delicious!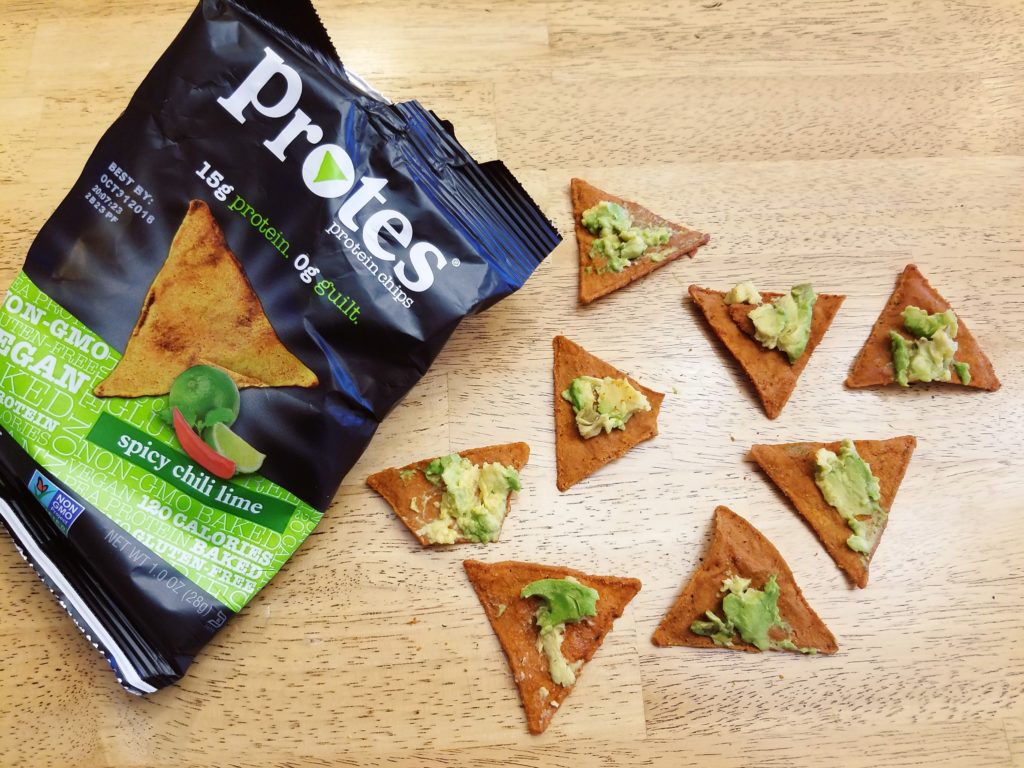 Recipes I'm Loving
Garlic Sweet Potato Fries
Behold: the yummiest recipe for CRISPY Sweet Potato Fries at home!  Dare I say they're better than the fried kind at restaurants :p 
Black Bean Salad with Roasted Sweet Potatoes
I made this dish for a staff after-hours party and I received multiple complements!  The zesty, tex-mex dish is perfect as a standalone meal or side dish! I've got some leftovers in my fridge ready to be made into tacos 😉
Coconut Cacao Tahini Snack Bites
I love Minimalist Baker's take on the "fat ball".  It combines my precious tahini and delicious coconut butter for a melt-away, delicious, and satiating snack.  Try them and swoon!
Paleo Double Chocolate Banana Bread
This recipe uses A LOT of ingredients so it took me a while to get everything I needed to make it.  Let me tell ya, it's worth it!  This banana bread tastes like freaking rich, dark chocolate cake without the sugar!  It's naturally sweetened from banana and doesn't leave me feeling weighed down like if I ate something decadent.  It is also delicious with nut butter or decked out as a breakfast meal.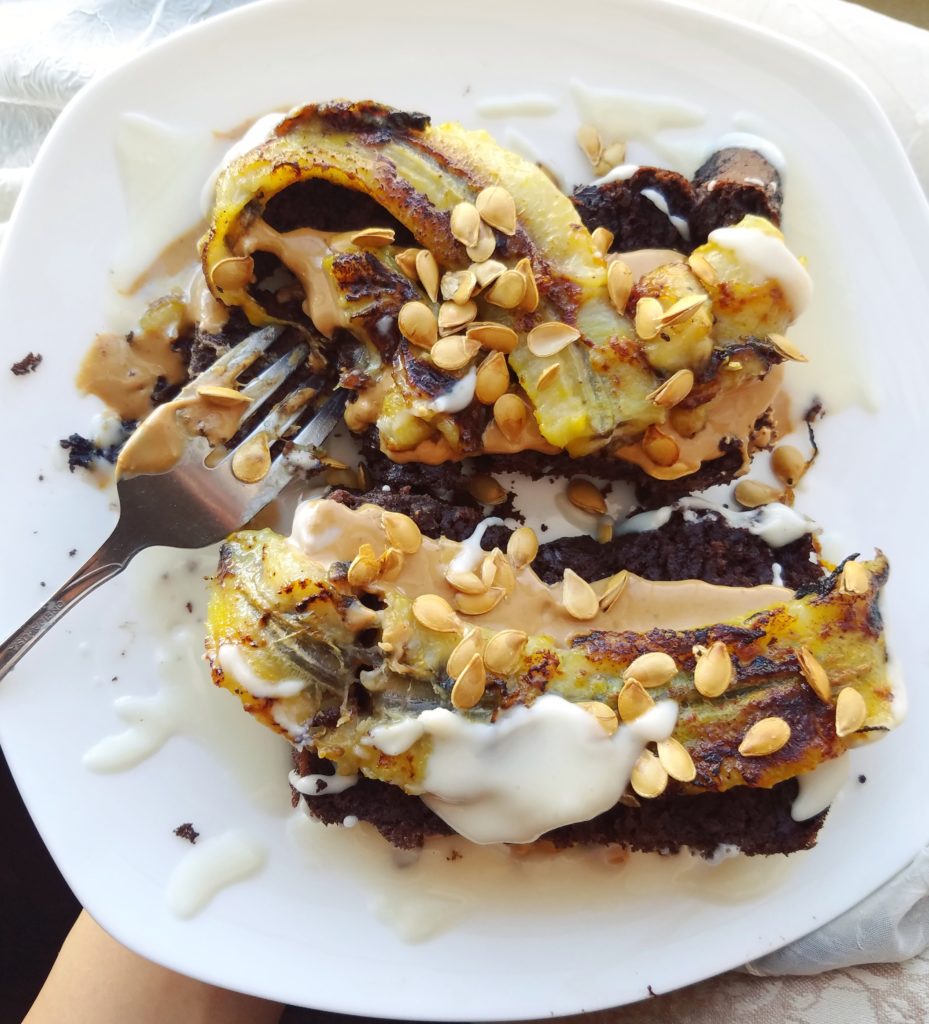 Fit Favorites
I admit I've sidetracked from my workouts lately.  I felt like the pressure to fit in a workout was getting to be too much.  Though, exercise makes me feel good so I've still got some options!  Lauren Gleisberg's Fitmas is crazy good for strength training!  I love the targeted body part workouts that are usually less than 30 minutes to complete. 
The stress at work + the natural stress from workouts had me feeling like I had no moments of calm.  So, a yoga flow to start my day sets me up for success!  I recently completed Yoga Revolution for the second time and know the upcoming January challenge will be just as amazing!
Audible Favorites
Eisley's newest album I'm Only Dreaming
The angelic vocal stylings of Sherri Dupree make for a record of wistful, melancholic, dream pop.  The band has come a long way since older albums Room Noises and Combinations but maintain the gorgeous ambient tunes that make them unique.  Listen to Sparking down below or check out their Christmas single (YAS!) Star on the Tree.
One Part Plant Podcast
I think I've mentioned this podcast in a previous favorites video but this latest season of episodes is crazy great.  Jessica Murnane really put together a great lineup of guests. If you'd like a recommendation, check out episode 89 with Celeste Headlee!

Real Talk About Life Lately

Honestly, guys, I haven't felt this level of stress in a while.  So much so that my period came a week late this last cycle!  Also, for me, the first place stress hits me is my face.  My skin is freaking out and breaking out.  The winter has also been killing my hands which are competing with the scratchiness of sandpaper.  If you've got any recommendations for natural or nontoxic lotions, please share.  I know my skin will get better if I can just chill out.  Easier said than done but I'm trying to find my groove!
The center where I work full-time always keeps me busy.  Though, what makes it really enjoyable is the people I work with.  I started out being trained by a girl who was leaving (and I was replacing) and we became instant friends!  Funny how that happened.  I feel so fortunate to have met her because she is such a rare, sweet person!
As well, I've become friendly with a few others in the office but there is this one particular guy I work with who is so cool.  With my hormonal imbalance issues, I almost thought I lost the ability to actually like someone else the way I like him.  He knows a lot around the office and is beyond helpful with showing me reports, how to fix the copy machine, and more.  At a recent staff party, (where I made the above mentioned sweet potato dish) him and I chatted nonstop!  🙂
For the first time in a long time, I'm just excited about this time of year and where things may be headed.  I'm sending love and warm wishes to you all ♥