Hey, friends!  How are you?  Please tell me; I really want to know.  Are you just here to see what the "Adventure" part of Breakfast Adventure Jar is?  If so, that's okay, too.  See the recipe at the bottom of the page 🙂

I need to talk about some thoughts first.  Just today, I was scrolling through Instagram and got to talking with a friend about passions.  I started thinking of how we may dive into something as a follower but down the line it ignites a fire that motivates us to be a leader in that same field.  For my friend, it was fitness.  Following Tone it Up encouraged her to pursue personal training and nutrition coaching—both very different from her day job. Similarly, I started my fitness journey with Tone it Up and that transcended into an exploration of healthy eating and now I'm basically a nutrition fanatic.
I strongly believe in a whole foods way of eating.  For me that is mostly vegan but, I recognize that for others, a whole foods way of eating could be varied.  Plus, we all have to start somewhere.  I try to keep my preferences to myself but the few times I do talk about food, I think it influences others.  I get asked all sorts of things about what I eat, how to cook quinoa, and how to de-bloat. 
Of course, I'm not a dietician so I can only offer my personal experience and knowledge from reading but I wish to do more.  Here on the internet, especially in the health and wellness community, there isn't a question about how to use kale.  Though, offline, I need to remind myself that many people still have trouble formulating a plate of nutritious food. 
I thought of a quote I've seen floating around but I haven't ever resonated with until now: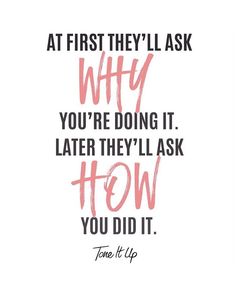 Right now, my ability to influence the community or public's view of nutrition is limited as my day job is an office assistant.  Though, I do hope that if someone has questions, they can have the courage to seek out answers.  I enjoy helping steer people on the right path but fully want them to create their own healthy relationship with food.  I don't yet know how I can further advocate for this subject which I feel strongly about IRL but I know it isn't going away soon. 
In the meantime, let's get to the Breakfast Adventure Jar.
The adventure part of the name comes from a few different places.  One, it stems from the fact that your jar is never going to look or taste the same way twice.  It is a complete mystery based on whatever fridge or pantry goods you've got to use up.  The idea for the Breakfast Adventure Jar came one day when I had baked a gingerbread loaf that wasn't terrible but just wasn't that great for snacking. I turned it into a parfait with some chia pudding, peanut butter, sliced nectarine, and cocoa coconut chips. That was the moment I knew.
Second, the adventure comes from looking around for goodies to put in your jar.  Half of an apple?  Throw it in! Mostly empty coconut butter jar?  Use that to build the mish-mash concoction!
So, I guess I should say, this isn't so much of a recipe as it is a guideline to make a bomb, texture-filled, parfait!  (Keep reading for my suggestions.)  Lastly, the jar is the vehicle for a delicious set of ingredients that you may have otherwise lain out on a plate at home.  Now the goods are all conveniently packed into a jar for the ease of portability for you to take on YOUR adventures. 🙂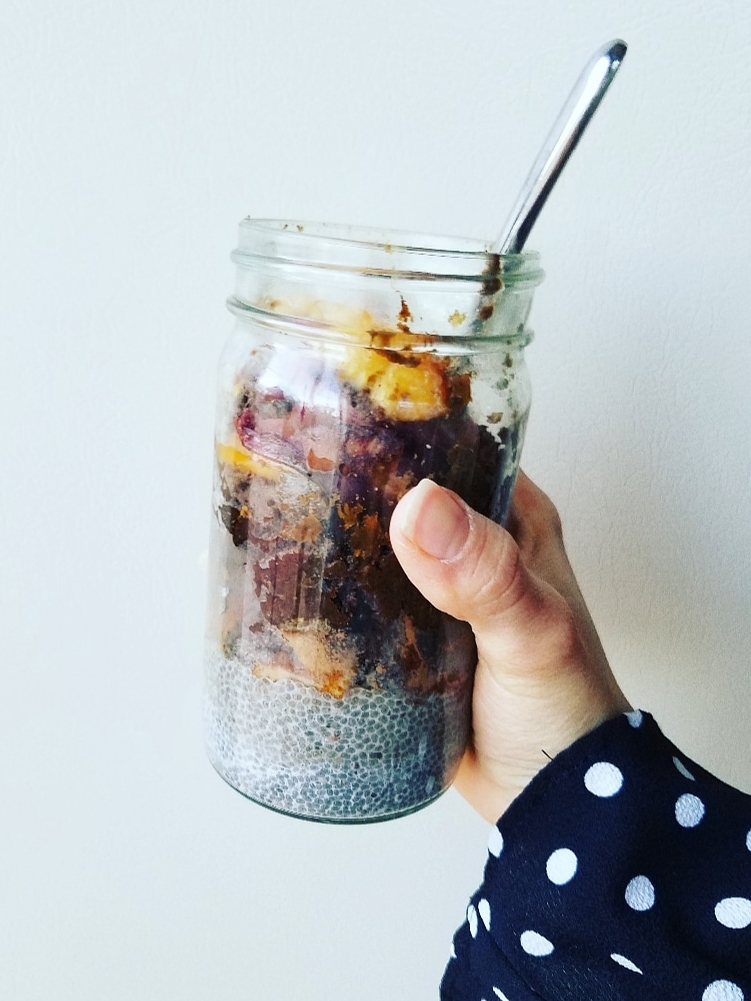 Be sure to tell me what adventures you go on with your     

delicious on-the-go breakfast parfait!
Breakfast Adventure Jar
Ingredients
1-2 homemade loaf slices or muffins* (I use 2)
Chia pudding, yogurt of choice, or leftover protein smoothie
A bit of whatever fruit you like: berries, sliced stone fruit, or good ol' banana
Granola, crushed up nuts, toasted coconut chips, and/or cacao nibs
Peanut butter or other nut butter for drizzling
Instructions
If making chia pudding for your Breakfast Adventure Jar, start with that. Add the chia seeds and milk to the jar and let set at room temperature for 10 minutes or so until thickened. If using yogurt or smoothie, save that for after the loaf/muffins.
Next, you can top the set chia pudding with crumbled up loaf slices or muffins OR, use them as the base of the parfait and top with yogurt/smoothie. Personally, I like adding the loaf to the base of the jar but the chia pudding wouldn't be able to set properly that way—and we want to keep this a 1 jar recipe!
For the third layer, add chopped fruit or omit if your loaf, yogurt, smoothies, etc. have fruit already.
Finally, top it all off with crunchy goodies of choice and perhaps a hefty drizzle of nut butter.
Notes
*There is no science to this. Literally use whatever bread you have and just add flavor pairings that you like. Banana bread, zucchini bread, or protein muffins are just A FEW possibilities. I've even used brownies once before 😊
Incase you wonder what went into the parfait in the cover image of this post here ya go: Blueberry Breakfast Adventure Jar featuring Rachel Mansfield's Blueberry Banana Breakast Bread, homemade coconut yogurt, frozen blueberries, ground flax, cocoa sea salt coconut chips, and peanut butter!
If you liked this post, then be sure to also check out my Yogurt Pro Bowl post where I share how to make a great yogurt bowl with unique topping ideas!