I know what it feels like to get major cravings all of a sudden and desire immediate satisfaction.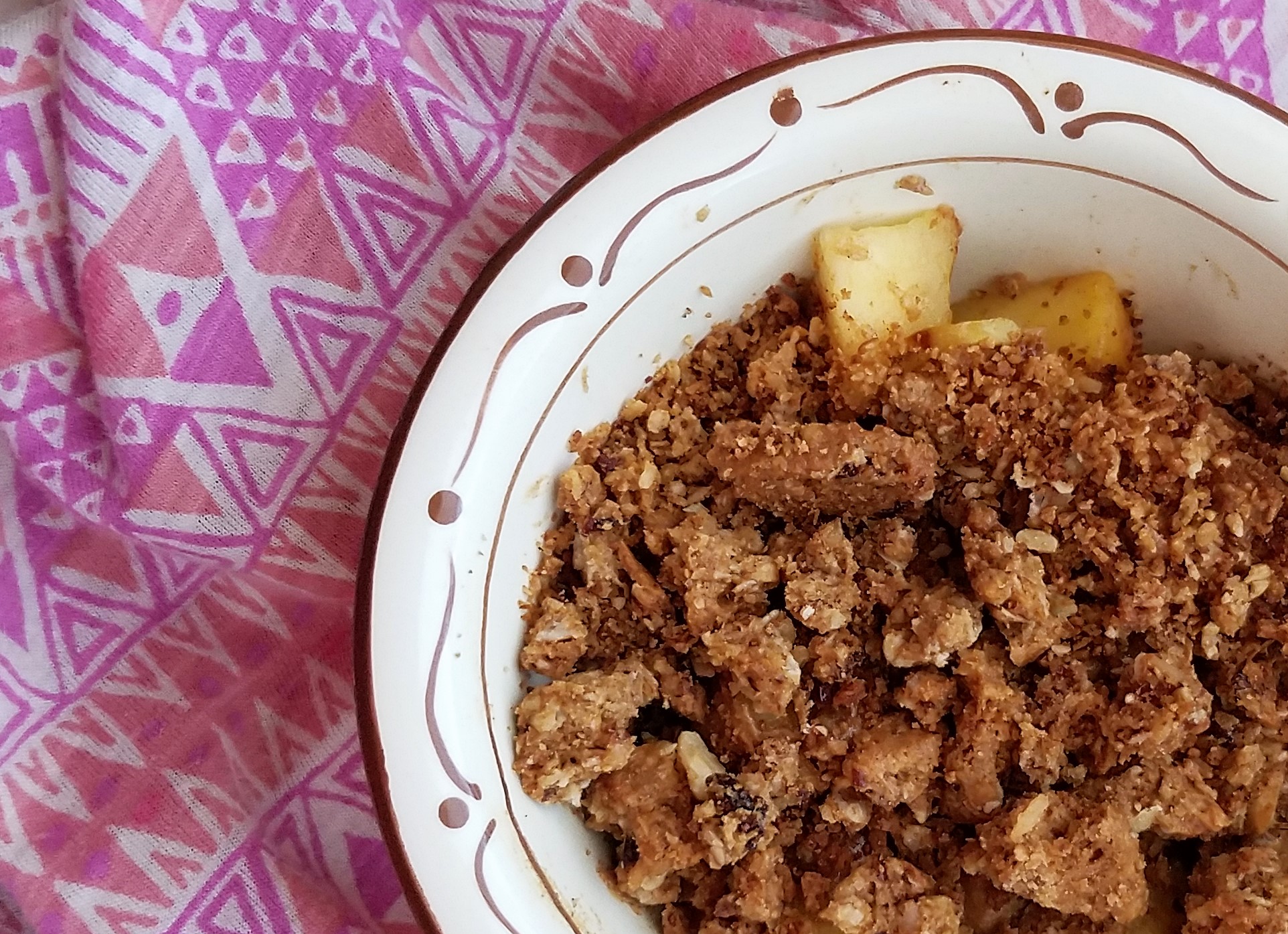 I try not to keep unhealthy snacks or desserts around my house because I do not want the temptation.
Sure, I could make myself a healthy dessert but the thought of going through a lengthy process to whip up something is not always appealing.  Plus, what would I do with the leftovers?  Or, more likely, the problem will be that there are no leftovers.
Sometimes I have no self-restraint 🙈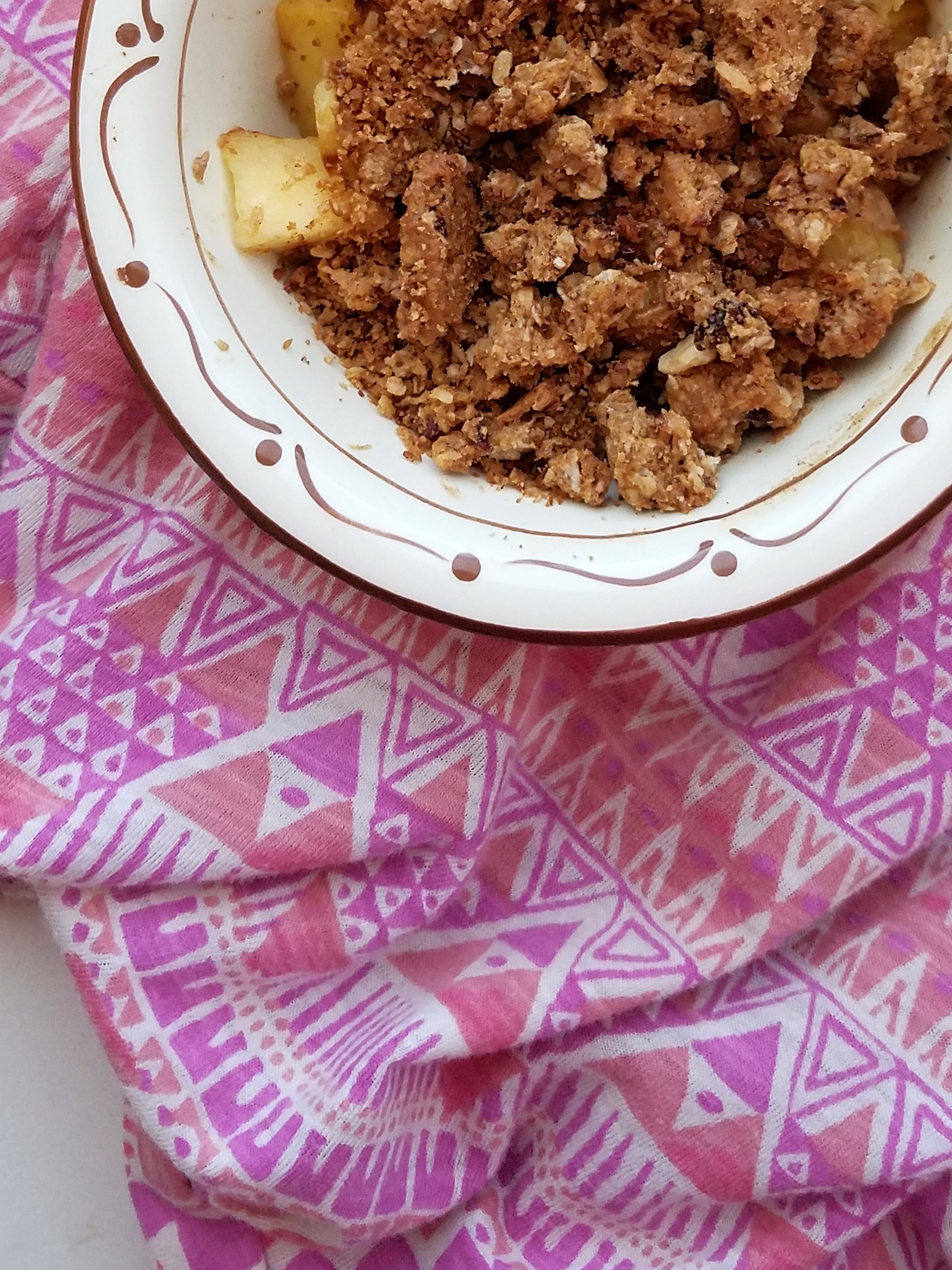 Thus, I have created a treat to satisfy the quick snack cravings in a way that won't leave you feeling yucky from an overindulgent dessert.
I cover all the sweet treat bases:
Warm
Crispy
Fruity
Peanut-buttery
Crunchy (Wait, is that the same as crispy? Nope!)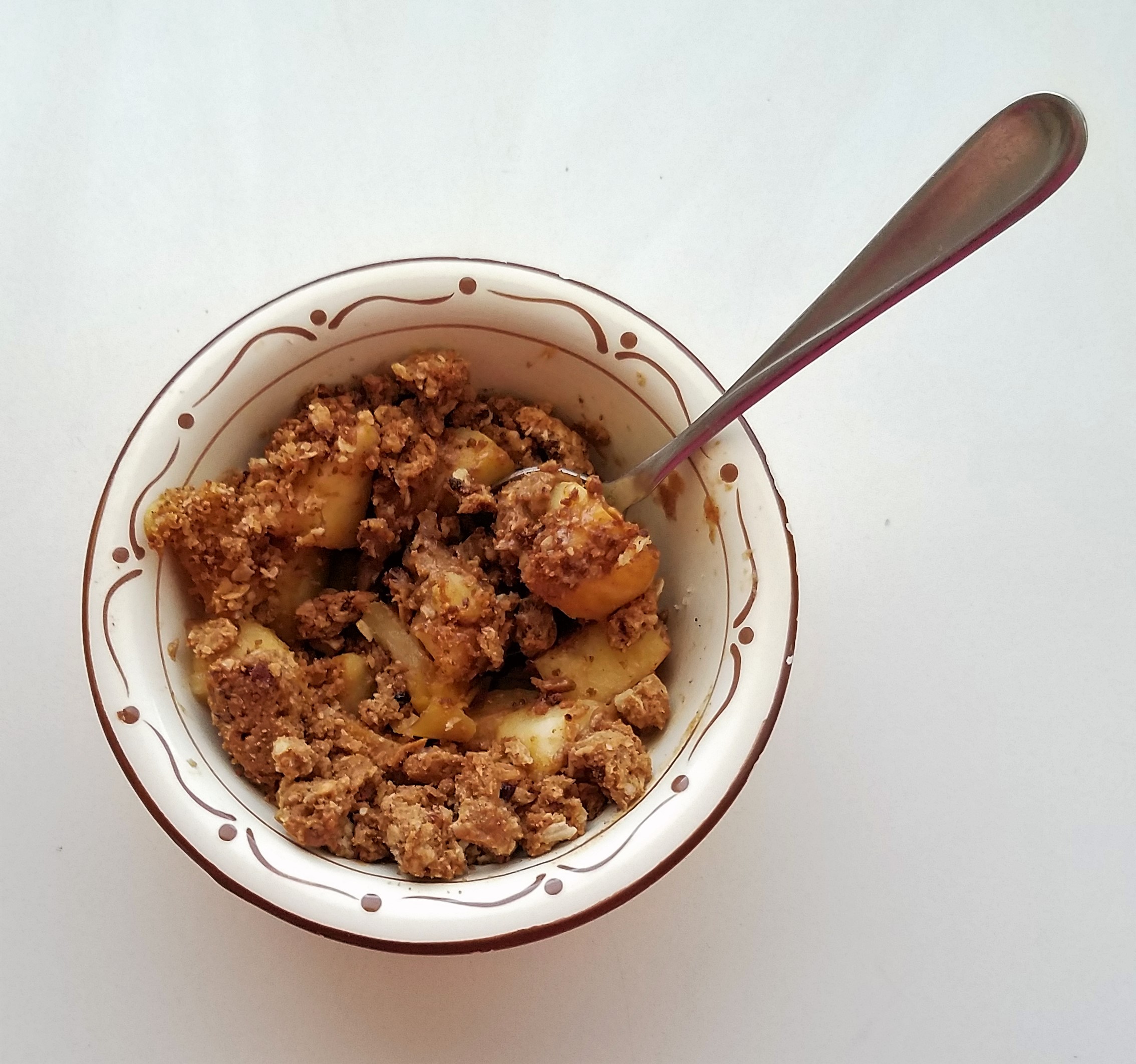 The most delicious crisp texture comes from broken down Ginnybakes cookies.  They are very firm, gluten-free cookies.  I  personally like microwaving them for a few seconds to soften them up, if I'm going to eat them on their own, but their hockey-puck like texture is perfect for adding crunch to this dessert snack!
Also, in the recipe, I used half of a large Gala apple but feel free to use an entire apple if you don't want to leave half of an apple lying around.  Alternatively, double the recipe and share the snack-sized crisp with a friend! 😉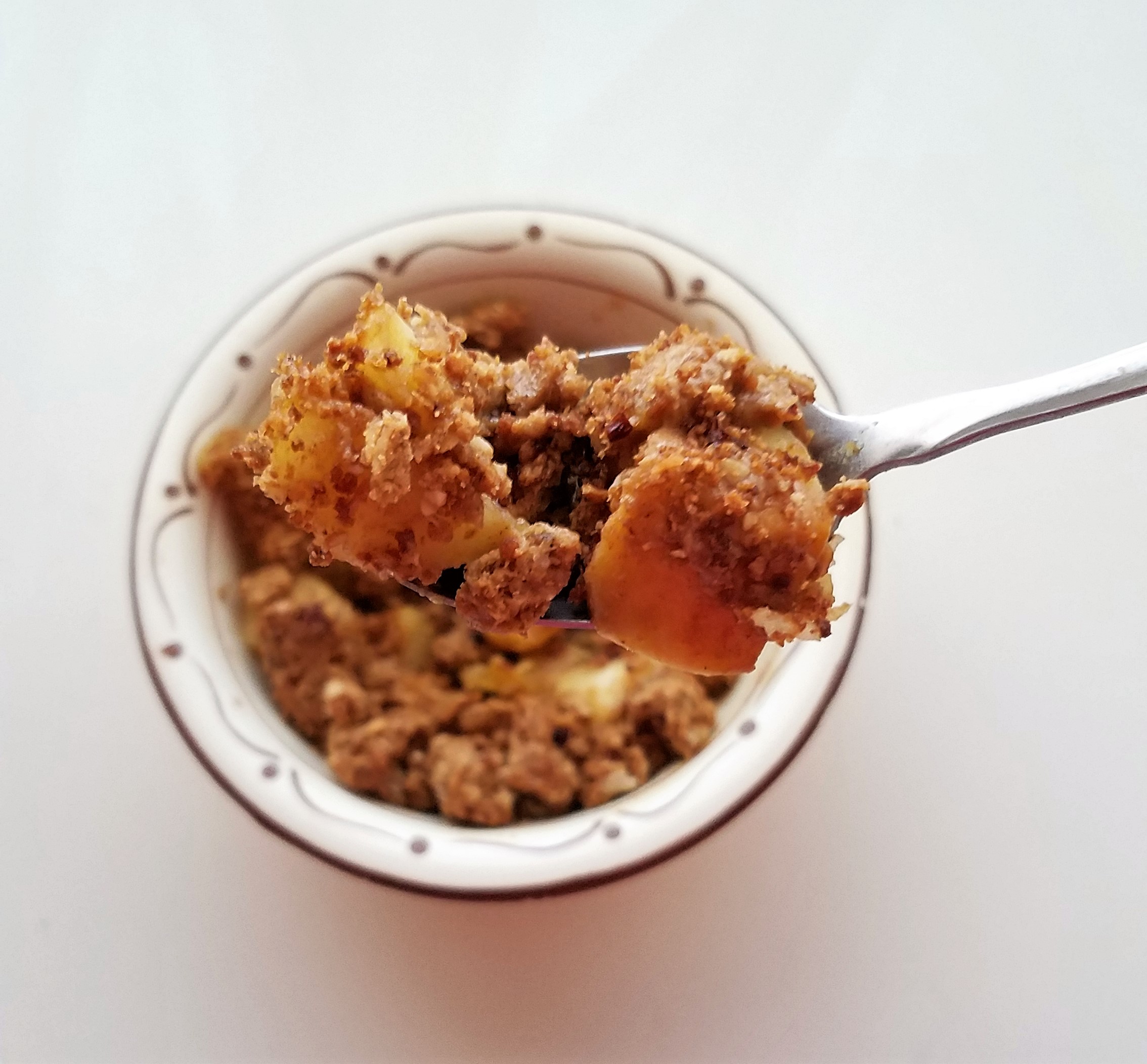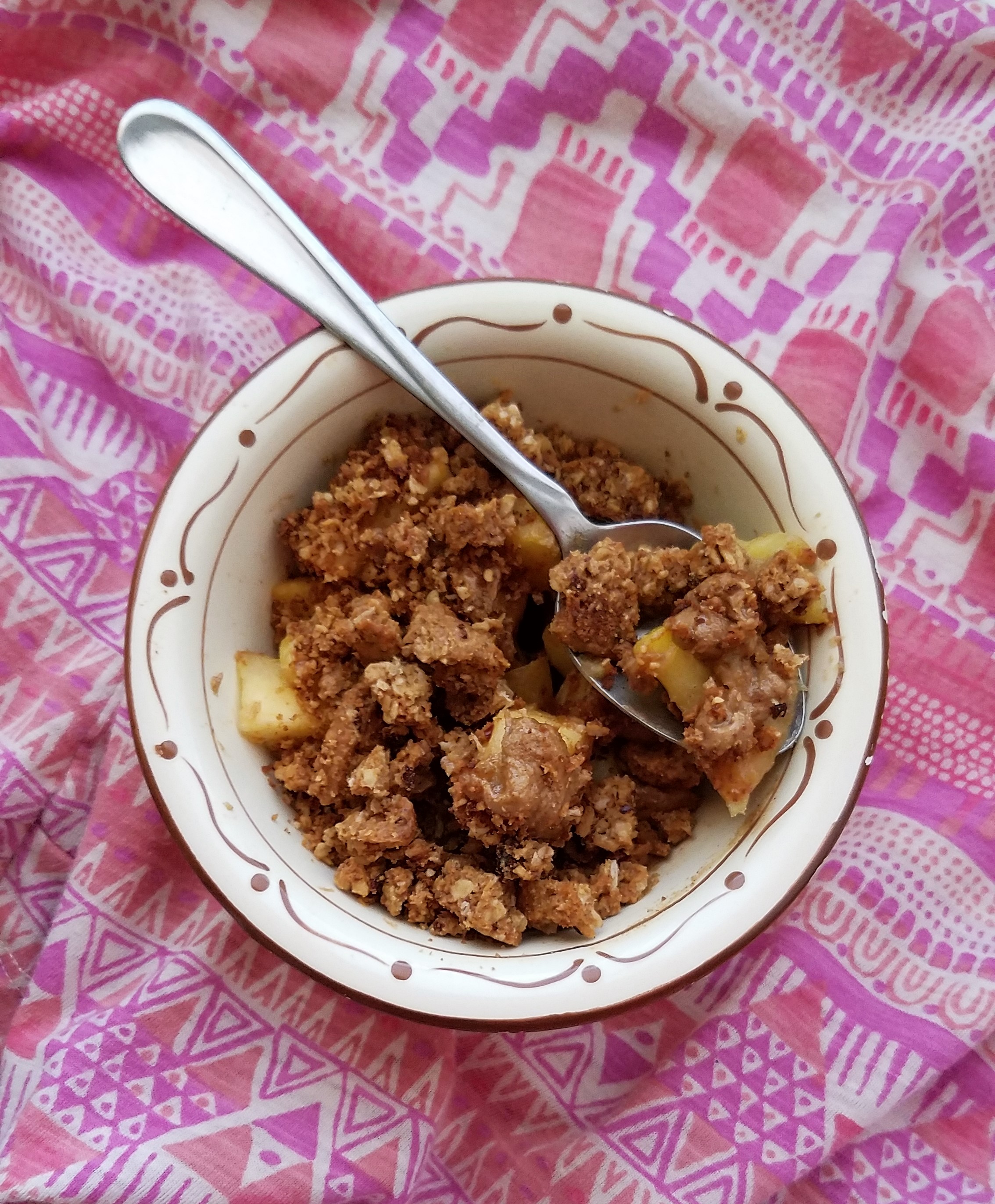 I'm aaaall ready to dive headfirst into this easy to assemble snack! Let's go!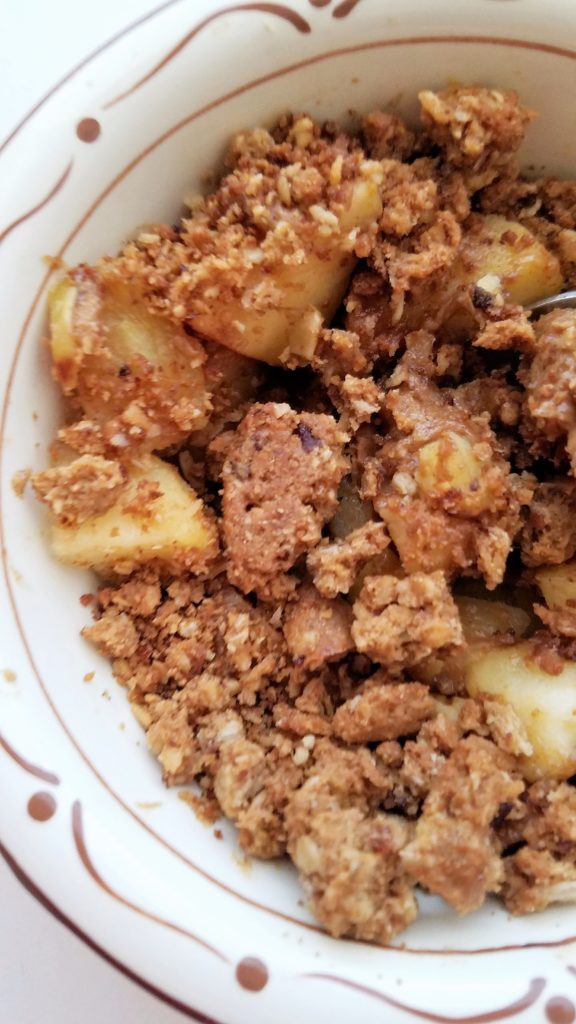 | | | |
| --- | --- | --- |
| 5 Minute Peanut Butter Apple Crisp for One | | Print |
Prep time:
Cook time:
Total time:
A quick and easy apple crisp that is healthy enough for a snack and filling enough to satisfy a sweet tooth for dessert.
Ingredients
½ tsp of Nutiva butter flavored coconut oil or plain coconut oil
½ a large Gala apple or apple of choice, chopped
⅛ tsp cinnamon
2 Ginnybakes Coconut Oatmeal Bliss Cookies*
2 tsp of peanut butter (I used Wild Friends Pumpkin Spice peanut butter)
Instructions
In a small, nonstick pan, warm up the coconut oil over medium heat.
Add chopped apples and sprinkle with cinnamon. Stir the apples around in the pan until warm. Pour apples into a serving bowl.
Place the nonstick pan back on the stove, turning the temperature down to the lowest heat. On a cutting board, chop up the 2 cookies until there is a mixture of fine and medium-sized crumbs.
Add cookie crumbs to the pan and turn off the flame. Let sit for 1 minute, swirling the crumbs every few seconds. The crumbs should already be crunchy so they just need to warm up.
While the crumbs warm from the heat of the pan, add the 2 teaspoons of peanut butter to the cinnamon apples and stir until coated.
Remove the pan from the stove and pour cookie crumbs over the apple-peanut butter mixture. Pat yourself on the back and eat!
Notes
*You can use another crunchy cookie of your choosing. The classic Nature Valley granola bars are the kind of firm, crispness that you're looking for. Alternatively, you can sub 2 tbsp of pre-made granola for the cookie crumbs.