Ever since Lee from America talked about how she was grease-training her hair, I decided that was something I wanted to try.  I would like to improve the health of my scalp and I am also concerned about my short hair drying out.  The elements and frequent washing can wreak a havoc on both so grease-training seemed like a great way to combat that.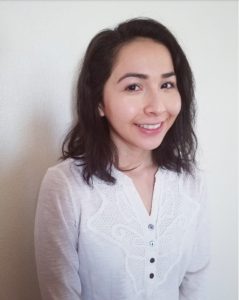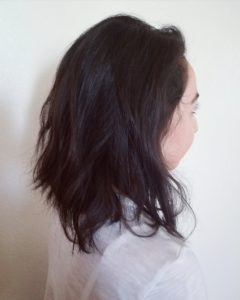 I'm still new to grease-training but basically, it involves taking time to let your hair and scalp develop its natural oils.
Before we delve into this any further, there are some things I want to mention about my hair texture: I recently cut my hair to as short angled bob but, when it was longer, it was easily frizzy and often wavy.  Now, it is somewhere in between wavy and straight, but with a decent fullness.  I usually style it with a straightener to smooth out the hair that frames my face or the rogue pieces at the back of my head.  Otherwise, au natural is easiest for me.  I've also got some Latina blood in me so that lends itself to hair with the potential to get majorly oily.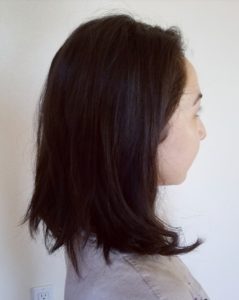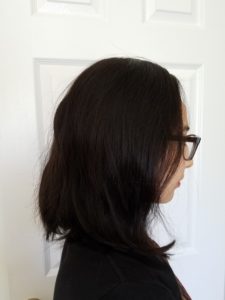 My hair was ridiculously oily from over-washing.
For years my hair washing routine has been to shampoo every other day.  My second day hair will typically have a little more texture to it but the crown of my head is ready to be washed by the evening.  So, the first step in grease-training for me was to extend washing to every three days.  That felt uncomfortable to say the least.  After about two weeks of going through three day hair-washing cycles, I stepped it up.  I did four days with a hair rinse on day 2.  I'll talk about rinsing a bit more but first, let me mention some tips I acquired tips from friends on Instagram who also don't wash their hair frequently ( I won't out you guys x D ) which I utilized during grease-training:
Dry shampoo was recommended and I know it can be a savior for many.  I used it a bit during the first two weeks but opted not to use it as I continued extending the days between washes.

Another tip I got was to wash my hair with only water and scrub it really well with my fingernails—I call this a rinse.

A final tip was to condition the ends of my hair during the rinsing time in the shower.
I tried all of these at some point but here's the deal with the mid-point rinse: it helps get rid of the gunk that was building up on my scalp but that gunk just got shoved further down onto my hair.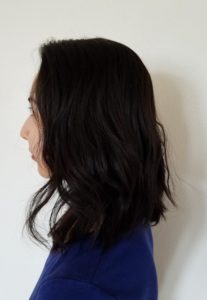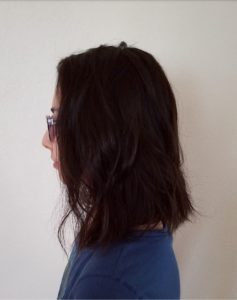 Despite how gross I felt, I pushed through!
The days following the rinse, I just accepted the "thick" look my hair had.  I mean, hey, at least it couldn't get any worse.
I did two weeks of four day cycles with a rinse on day 2 and shampooed on day 4.  Finally, day 4 came around and I was like, why not try for 5?  Then on day 5 I said, let's try to get to day 6 and then 7!  I jumped from washing my hair every four days to a whole week without washing.
Let me tell ya.  That first complete week of no washing was pretty damn greasy.  Especially because I squeezed some workouts in daily.  This week was also when I also rinsed my hair for the last time—it wasn't working out for me.  My hair was an uncomfortable mess but I was optimistic it would get better.  The second time I tackled a week without washing, my hair lasted well for the first few days (see pictures) but needed some attention by day four.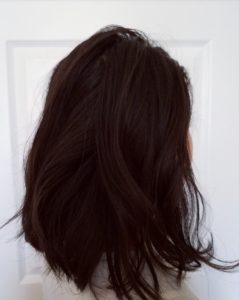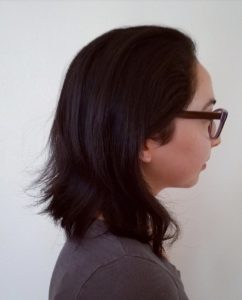 Okay, it was screaming for attention.
My mom was disgusted when I told her what I was doing and told me I should brush my hair.  She reminded me that in the old days, when people wouldn't shower often, ladies would brush their hair daily.  A daily brushing helpse to distribute the oils and keep their hair fresh.  I honestly never brush my hair but I decided to give it a go.  My hair felt really oily but it was no longer all concentrated at the crown of my head.  It felt like the oils were distributed through my hair but not in the thick way that my hair felt after rinsing.  I kept brushing the days following that until I finally washed my hair on Day 8.  For the record, I wasn't aiming for eight days.  I just didn't get the chance to wash it on the evening of Day 7.  My hair felt relieved, instantly clean, and featherweight.
As I write this, I am on my third cycle of a full week without washing (and second week without any rinsing whatsoever).  This week has definitely gone by much smoother and less oilier than last.  My hair actually felt great and looked fresh most of the week!  I attribute that to brushing it well on Day 3 and continuing to do so daily there on after.
My takeaway is:
Grease-training doesn't happen overnight.  It took me a good month to build up to four days without shampooing my hair.  Now I can last a full 7 days and my scalp and hair feel decent.  More importantly, they don't look like a greaseball.
Oily roots are the result of natural build up.  So, sure, you can spray dry shampoo on them but that doesn't help the hair itself.  I opted to use the scalp's oils as a conditioner for my hair when I gave it the daily brushing.
And the brushing—that makes the biggest difference.  I use a nylon bristle brush though a boar bristle brush would probably be most effective.  If that's something you want to invest in.
It's a bit too soon to tell if my scalp and hair are "healthier" but it feels good.  My hair is definitely not dry and I haven't had to use styling products at all.  I like the way it naturally falls and it holds well in pontytails, buns, or braids.  As far as grease-training goes, it would be cool to be like Shailene Woodley and only shampoo once a month but I'm going to stick with my cycles of 7 days for now.