Do you remember a year or two back when yogurt bowls were super trendy?  It seemed like yogurt was all the rage for breakfast and healthy snacking—especially once Greek yogurt hit the scene.  How, you might be thinking, can a food be trendy?  Well, sorry, folks, that is a question for someone else.  I don't start the food trends I just utilize them.
In early 2016, I was on the biggest Greek yogurt kick and would start each day with a bowl.  I'd eat it with berries and granola, melon, or stone fruit—oh, yogurt could do no wrong!  Though, sometime during the summer, I had one too many bowls and got turned off.  Now, it has been months since I've consumed it but recently I found myself craving the creamy, refreshing, gut-healthy food.
First things first, I picked up individual serving containers of Silk's blueberry soy yogurt and Kite Hill's plain almond milk yogurt.  For the yogurt bowl shown above, I used the almond milk one but you can see me use blueberry coconut flavor in this Instagram post.  I think I like the coconut version the most out of the two but use whatever non-dairy or regular yogurt you like.
As I previously mentioned, yogurt with fruit is an easy pairing.  Nowadays, I want a little more out of my yogurt bowls so I like to add sweet potato, oatmeal, and nut butter to tackle all the food groups at once!  Side note: I like to give credit whree credit is due so, I first saw the idea from @olive.eeeats on Instagram.  It's hearty, comforting, and a breakfast I can get behind.  It's a total Yogurt Pro Bowl, if you will.  Also, if some of the items I included aren't your thing, I've included suggestions at the end of this post on how to jazz up your yogurt bowl in an unconventional way.
For a well-rounded yogurt bowl, I like to include:
Whole grains
Vegetables
Berries or other fruit
Fats
Admittedly, my yogurt bowls turn out different each time so, while I've provided my recipe, this is just a guideline.  If you want more or less food, adjust as needed.  There's no wrong way to measure or plate any of these foods so just eat according to what you're craving and enjoy!

Cuisine:
American, Vegan, Vegetarian
Prep time:
Total time:
The yogurt pros (that's us!) prep their ingredients ahead of time. So, use your breakfast yogurt as a chance to toss in some roasted veggies, fruit of choice, and healthy fats. It will give your mind and body the fuel it needs to tackle the day!
Ingredients
Overnight oats: ⅓ cup oats, 2 tsp chia seeds, ½ cup water or milk, ½ tsp maca powder, ½ tsp cacao powder
½ cup yogurt
Roasted sweet potato fries (from ½ small-med sized potato), sprinkled with cinnamon
½ small-med sized banana
¼ cup raspberries
¼ avocado
1 tbsp ground flax
1 tbsp of peanut butter (I used Wild Friends Pumpkin Spice)
2 tbsp granola, optional but recommended for texture (I used Purely Elizabeth Chocolate Probiotic)
A pinch of Himalayan pink sea salt, recommended to sprinkle on avocado (I used San Francisco Salt Company)
Instructions
For the oats, combine all of the ingredients the night before. Alternatively, warm, stovetop oats could be substituted.
For the yogurt bowl, first add the oatmeal to one half of the bowl and the yogurt to the other half.
Then, I like to strategically lay out all of the toppings in different sections of the bowl but feel free to toss them all in together. Though, I should say, the sweet potato fries are best left on the sides of the bowl to utilize as yogurt dippers. 😉
Lastly, sprinkle salt on avocado, drizzle nut butter, and add a few clumps of granola before taking a spoon and devouring!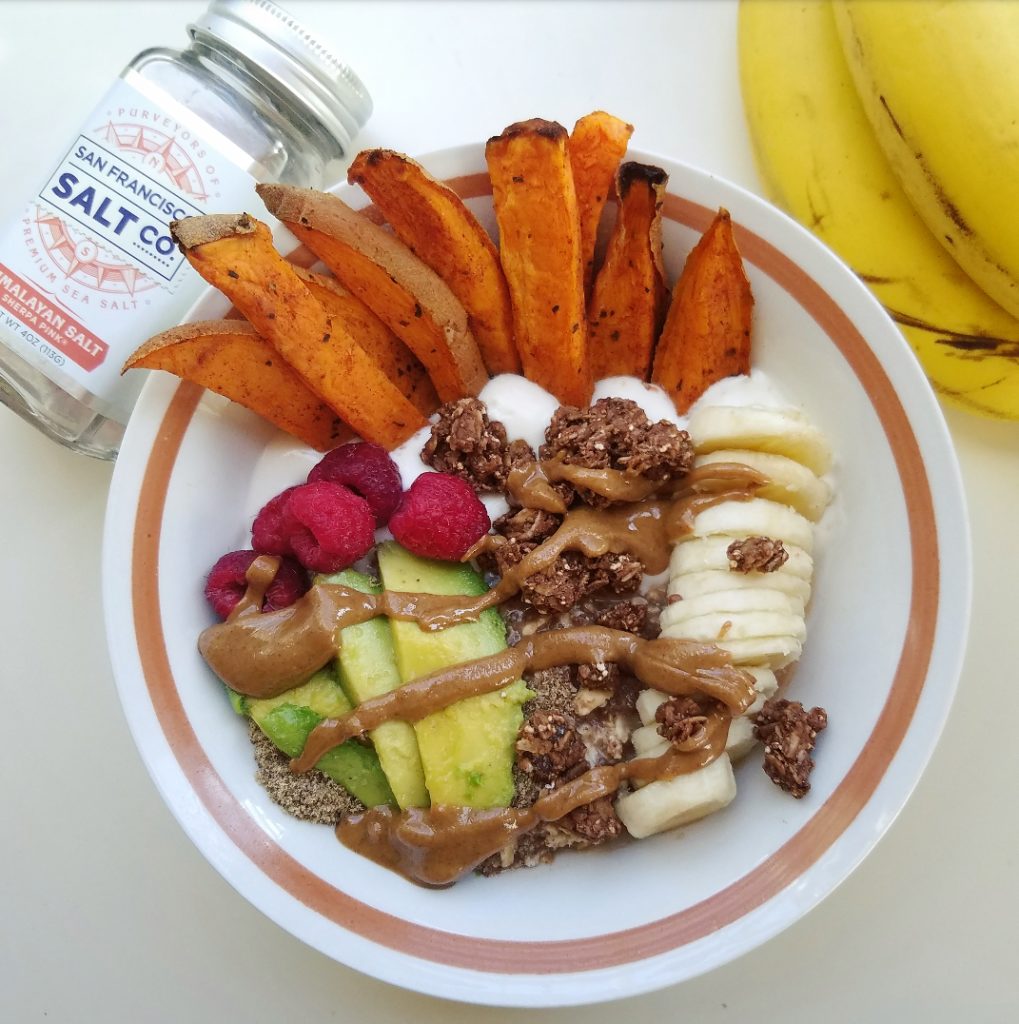 In my opinion, what makes this elevated yogurt bowl different is that it doesn't solely rely on fruit to make it awesome.  Plus, it doesn't shy away from carbs or fat.  Normally yogurt is considered the low-calorie, dieter's choice breakfast.  Which it can be but I'd like to prove yogurt can be fun so long as you know how to jazz it up! 🙂 Actually, as a matter of fact,…
There are many choices for yogurt bowl add-ins!
Whole grains: Stovetop oats or overnight oats, buckwheat, quinoa cooked in coconut milk, warm barley, or simply use a homemade whole grain muffin—YES!
Vegetables:  Roasted or sautéed carrots, sweet potato, butternut squash, cauliflower, or Brussels sprouts if you're feeling adventurous!
Spice it up: Cinnamon, nutmeg, turmeric, rosemary, paprika, or sweeten with maple syrup or raw/coconut sugar.
Fruit: As you probably know, ANY fresh, frozen, or sautéed fruit you like will work!
Fats: 1-2 tbsp peanut, almond, or sunflower seed butter; toasted walnuts or pumpkin seeds, cinnamon-maple glazed pecans, ¼ of an avocado, or coconut flakes will do.
Bonus: Granola, hemp seeds, adaptogens, flax or chia seeds.
Here are some pairing ideas I cannot wait to try:
Roasted carrots with blackberries, quinoa, and sunflower seed butter; crispy roasted Brussels, with cinnamon maple-glazed pecans, blueberries, and barley; also, sautéed turmeric butternut squash with coconut oil sautéed apples, and toasted walnuts.
Of course, those are just a few ideas.  Mix and match according to your taste buds!  Also, please let me know how you enjoy yogurt or if you've got any wild yogurt pairings.  I'd love to try out something new!