Less than a year ago, I used to consider snacks to be something you eat if you're waiting on a meal.  So, if I was 30 minutes away from lunch time then I'd contemplate suffering through my hunger for a bit longer or give in to a snack to tide me over.
I have a very different outlook on snacks now!  I've still got my main meals of breakfast, lunch, and dinner; I just include an extra snack mid-morning and mid-afternoon.  Sometimes I'm hungry and WAITING for that snack or sometimes I've got a mild craving and the snack helps satisfy that.  Either way, snacks are a part of my daily routine.
I like making my own snacks, like these no-bake almond coconut bars, but there are a number of packaged snack bars that I love taking on the go.  They are great options when you accidentally forgot to pack your homemade snack or if you need something that is not easily perishable.  I'll dive into my favorite bars and flavors and also offer protein and sugar comparisons because that's something I watch out for in bars.  The closer the protein to sugar ratio is, the less chance I'll spike my blood sugar.  Please, feel free to let me know your thoughts on these bars or any others you like that I didn't mention here.
My Favorite Snack Bars
Square Organics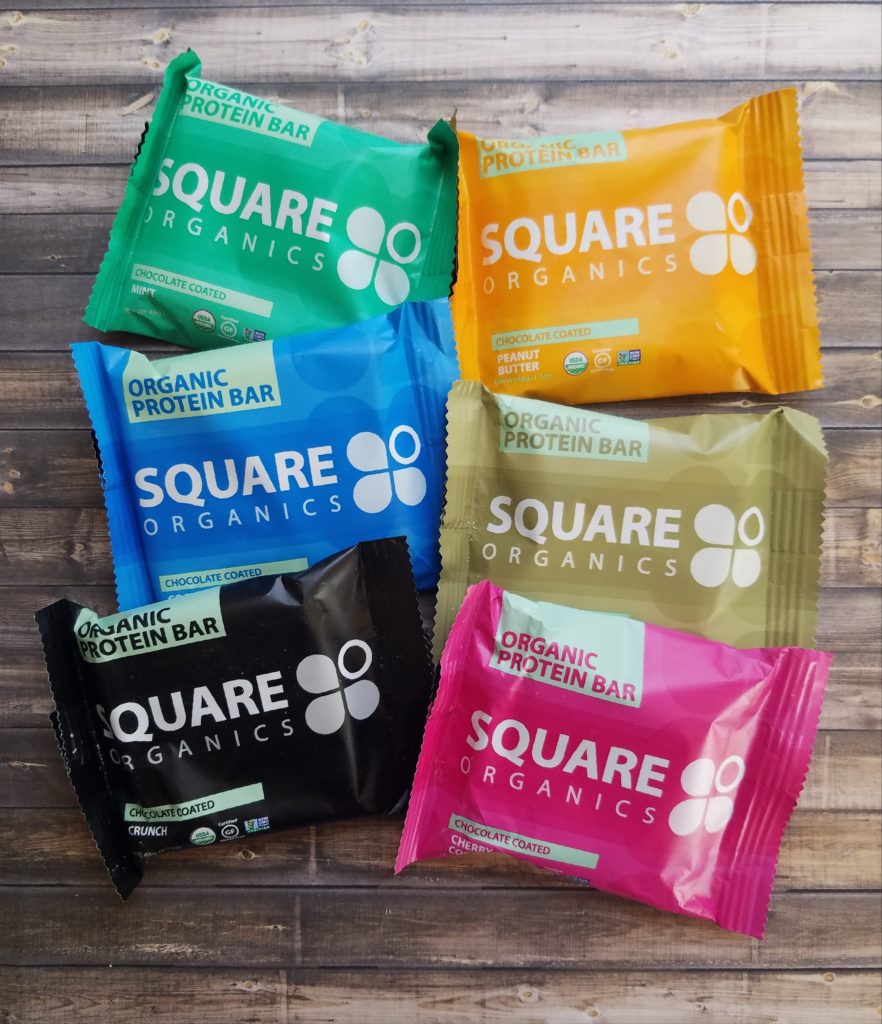 If you've spent a short time on Instagram then you've probably seen or heard of these bars.  Square Organics bars are chocolate-coated crispy bars packed with vegan protein and hints of flavors.  I love the coconut and cherry coconut flavors but you can't go wrong with any of them.  You can expect 12g of plant-based brown rice protein, and an equal amount of sugar from low-glycemic coconut nectar and cane syrup.  One of the best ratios I've ever seen in a snack bar.
You can buy these bars online or at places like Vitamin Shoppe.
Clif Nut Butter Filled Energy Bars
Unlike traditional clif bars, these energy bars taste like soft biscuits with a creamy nut butter center.  Each bar has an awesome 7g of protein!  I like the coconut almond butter flavor which has 9g of sugar in each bar.  These are surprisingly filling and really great at keeping me sane when I'm super hungry!  These bars are also organic and come in 7 different flavors.  I can't wait to try the blueberry almond butter variety.
I find these at any major-chain grocer like Walmart and Target.
bRAW Bars
I mentioned bRAW in my May Wrap-Up post so you know I'm already a fan.  These do need to be kept in the refrigerator but taste just fine after being in my purse for 2-3 hours.  They are a little high calorie but all of the goodness of these bars comes from nuts and seeds!  My favorite almond crunch flavor has 9g of protein and 7g of sugar.  Another excellent ratio!  The other flavors: super green, coconut macadamia, and chocolate espresso have similar protein to sugar ratios.
These can be a little hard to find but check out their store locator or shop online!
Go Macro bars
My oh, my!  If you are in the market for the perfect organic nutrition bar, then look no further than Go Macro Bars.  They are vegan, soy-free, non-GMO, and gluten-free.  Some varieties like my favorite Balanced Goodness, contain 5g of protein and 12g of sugar.  Though, there are high protein varieties as well, like Everlasting Joy, which has 10g of protein and 12g of sugar.  I believe each bar has a base of nut butter, brown rice syrup, and puffed brown rice.  They are super chewy, lightly sweet, and so satisfying.
You can shop online or use their store locator to find retail locations near you.
ALOHA Protein Bars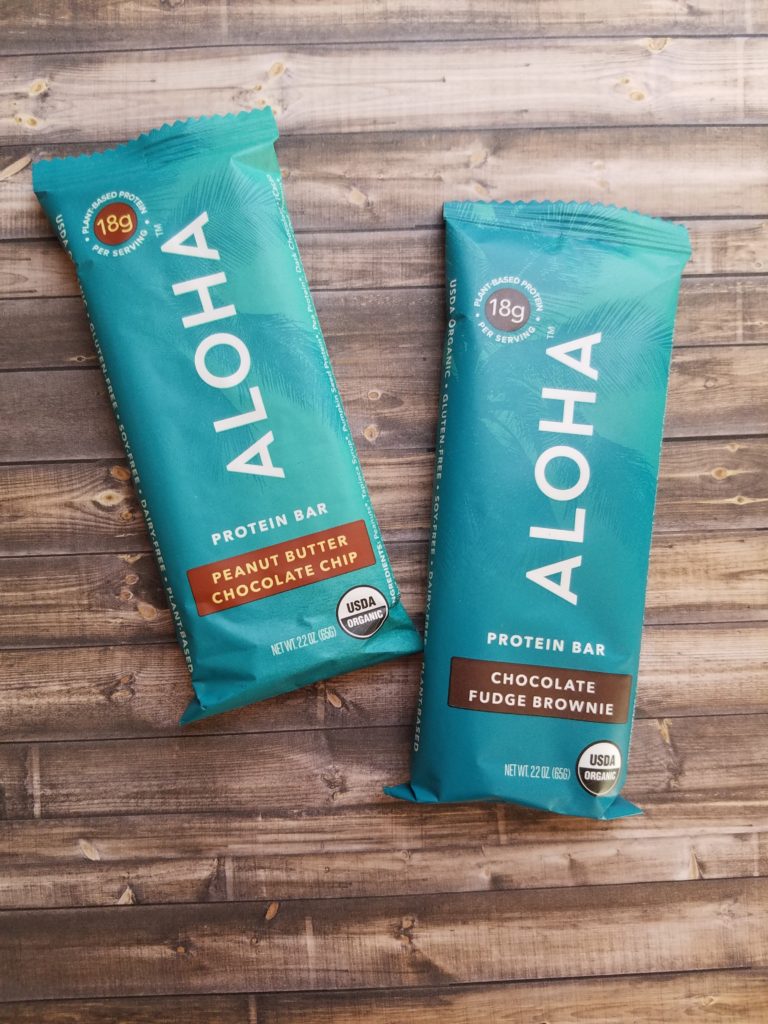 I like using ALOHA's organic, plant-based protein powder in my smoothies so I had high hopes before tasting these.  I've got to say, they are pretty darn good.  They have 11-12g of sugar in each bar and a whopping 18g of protein.  Yet, in my experience, they don't weigh me down—which could be problematic in a snack.  That being said, these bars are likely made with ALOHA's classic protein powder blend which can be a bit chalky.  That chalkiness is subtle in the bars and does not distract from the taste in the flavors I've tried: Peanut Butter Chocolate Chip and Fudge Brownie.  Online you can find the complete flavor variety of protein bars (just stay away from the Dark Chocolate Coconut Snack Bar—yuck!) but the in-store selection will vary .
ALOHA protein bars can be found at Target or purchased through the ALOHA website.
LARABAR Original
What's a snack bar list without LARABARS?  The company has quite the selection of products but I still find myself reaching for their original fruit and nut bar!  Flavors like Cashew Cookie, Apple Pie, Chocolate Chip Cookie Dough, and Blueberry Muffin are all so good.  Unlike the other bars on this list, the protein to sugar ratio is a little skewed but I don't find that they cause blood sugar spikes for me.  The bars nutrition content varies by flavor but they contain anywhere between 4-6g of protein and 12-20g of sugar.  The main ingredient in each bar is dates, which have a fair amount of fiber.  Plus, tag on the fat from the nuts and that helps keep the sugar punch down.
Find these at Target, Walmart, or Amazon.com.
RX Bars*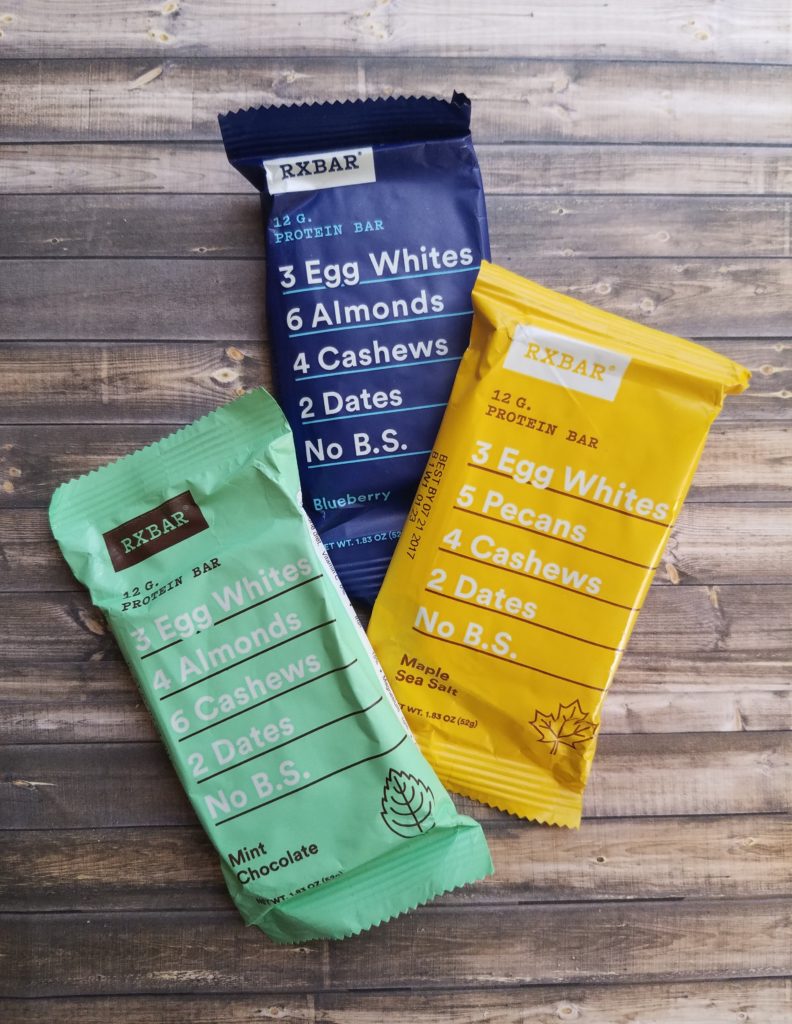 A friend passed along some RX bars to me not long ago so I decided to give them a try.  I prefer plant-based nutrition bars but these aren't half bad.  They are sort of like LARABARS but much firmer and higher in protein.  The egg-whites make these filling bars have a slight off-taste to me but I think it's easy to get past.  Flavors like Mint Chocolate Chip and Blueberry are tasty choices
I haven't spotted these in stores near me but they are available to purchase on the RX Bar website.
KIND Bars*
I'm not ranking snack bars from favorite to least but the kind bars are probably the bar I choose least out of all featured here.  Basically, KIND bars are the adult version of a granola bar.  Also, these gluten-free bars don't use oats but rather: nuts, dried fruit, and sometimes crispy brown rice for texture.  While they taste good, some questionable ingredients like palm kernel oil or even the soy isolate/soy lecithin (which is in each bar), keep me from eating them regularly.  The bars usually have at least 5g of protein but upwards of 10g of sugar.  The healthy grains variety is also tasty but only contains 2 or so grams of protein.  I'd say, be mindful when picking out bars and go for the Nuts and Spices line which are lower in sugar.  The best choices in my opinion are the Dark Chocolate Mocha Almond or Cashew Ginger and Spice.
Find them at Walmart, Target, gas stations, or online.  In stores, they are sometimes available individually near the check-out stand, too.
This list is definitely not comprehensive of all the snack bars out there but just some standouts from what I've tried.  I'm always looking for nutritious snack bar options so if there's something you like that I didn't mention, let me know!  I hope to update or add to this list in the future as I discover new favorite bars. 🙂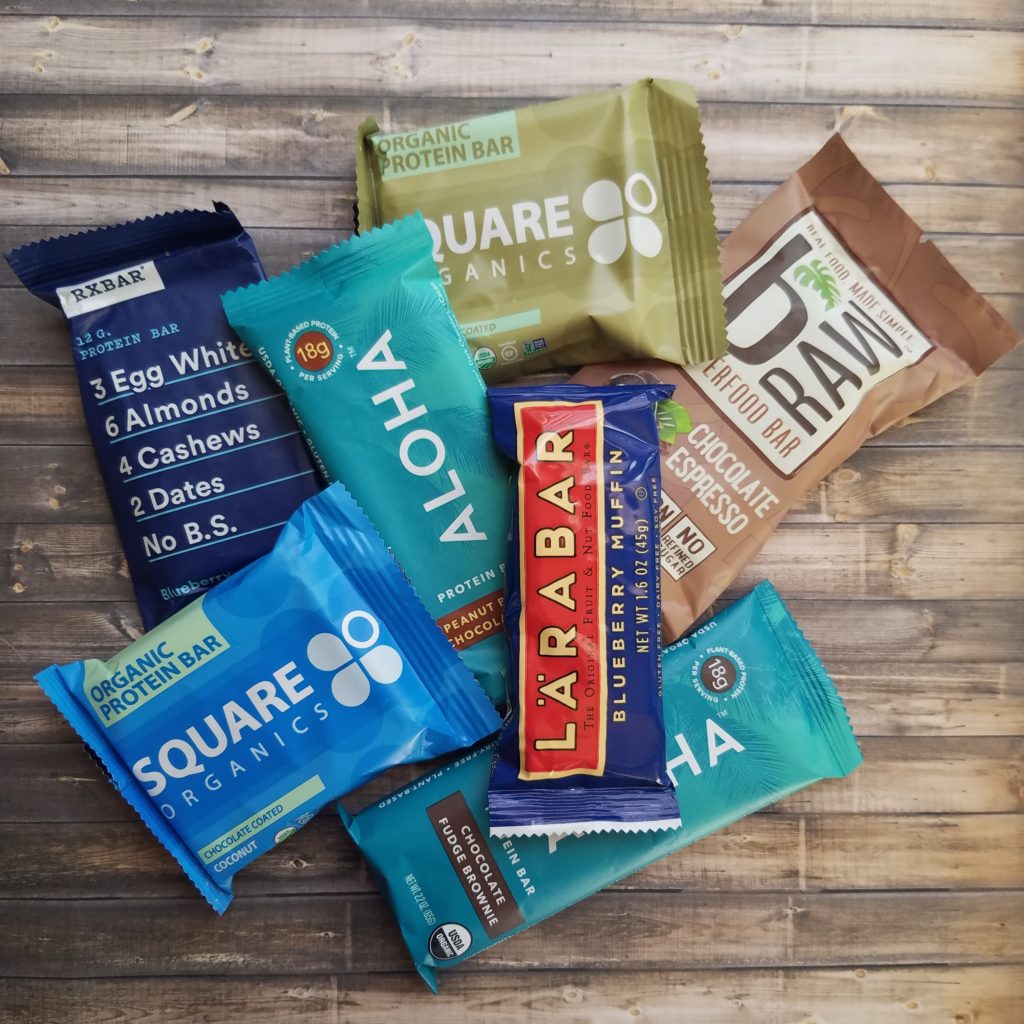 *The KIND bars and RX bars are the only snack bar options on the list that aren't vegan-friendly.  I chose to include them because I have tried them and both are fairly good options.  RX bars are filling and offer excellent protein.  KIND bars are widely available and therefore a decent option if you occasionally need to grab a quick snack while out or on-the-go.