Happy hump day, folks!  Who else is planning their summer menu?  I've got the perfect recipe for barbecues, family potlucks, and all of the upcoming summer festivities!  Picnic or potluck style food used to be my jam.  I loved eating potato salad, cold pasta salad, deviled eggs—basically anything with mayonnaise. 😋 Though, why have mayo when you can have fresh, colorful food?!  The Watermelon Spinach Salad I've whipped up will be the game-changing healthy side dish or main to jazz up summertime meal spreads!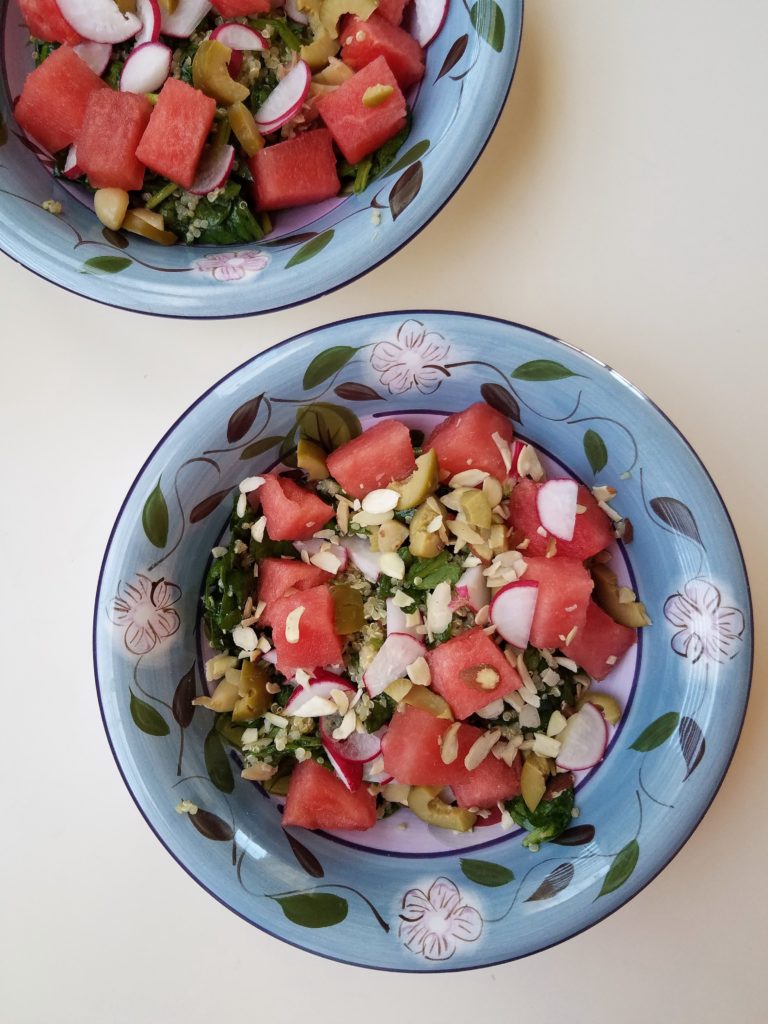 Occasionally, salads make an appearance at the average summer get-together but a big pile of green leaves does not usually appeal to people.  Add in a little texture and color and bam!  Suddenly the dish takes on a whole new kind of appetizing.  Watermelon is abundant and affordable during summer months so make sure you use a fresh and firm one for this salad.  Grainy or barely-sweet watermelon is not something we want in this salad.
Refreshing watermelon, briny green olives, and the texture of the quinoa and sliced almonds make this salad so satisfying!
It works great as a side dish but it's also easy to turn into a meal.  Just add protein of choice like chickpeas (or lemon pepper tuna, if you're like my mom) and then it's a complete meal!  To coat the salad, I used an adaptation of a lemon dressing from Cookie and Kate that I've been head over heels for.  It's seriously the best for drizzling on ANYTHING!  It is a subtle complement to make this salad come alive.  I know I'll be making this again and again throughout the summer!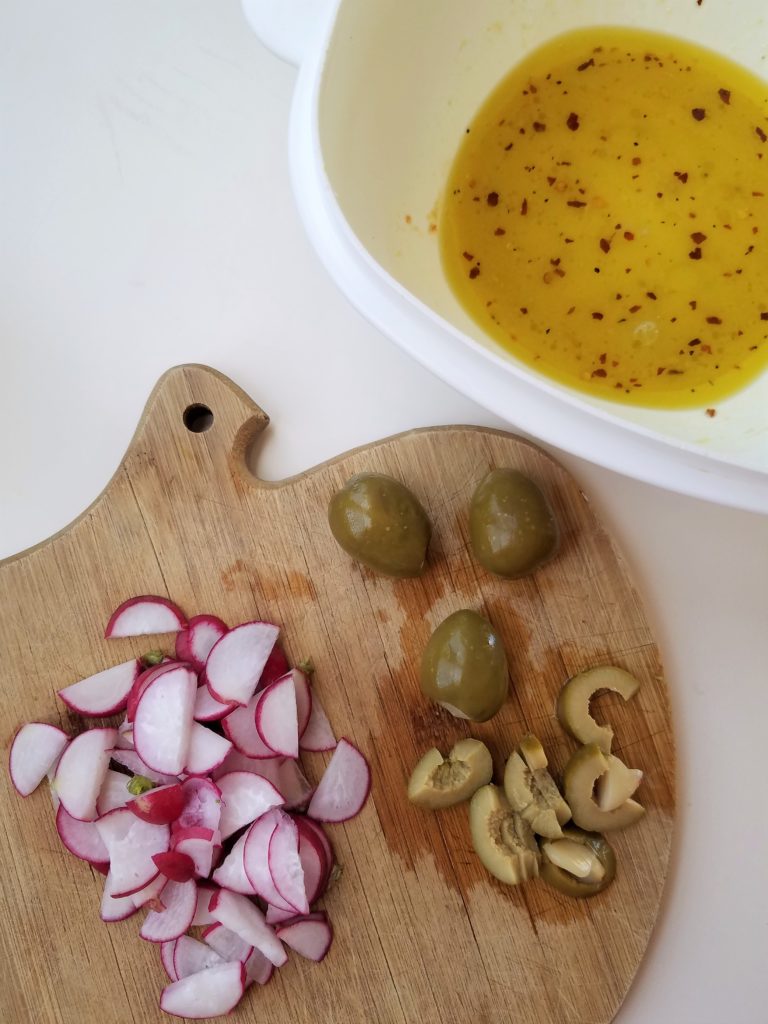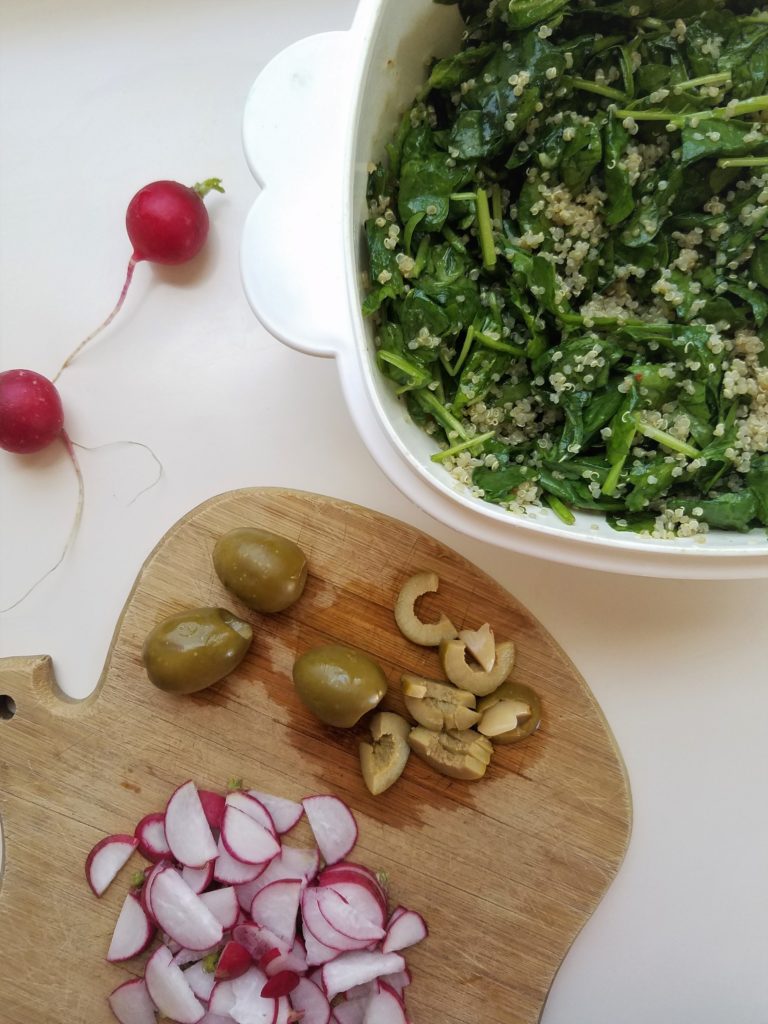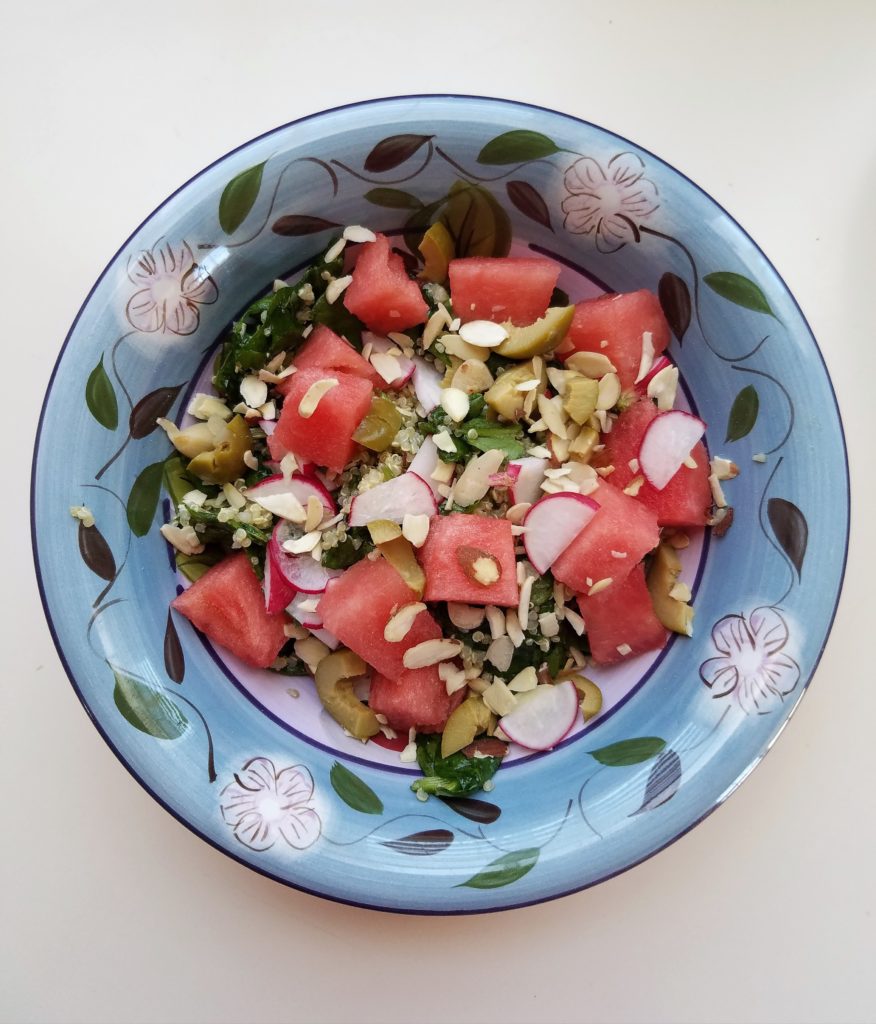 Have a great rest of your week!  Also, don't forget to subscribe so you don't miss out on any of my new posts.  Subscribe via the right-hand side panel or at the bottom of this page. 😉

| | | |
| --- | --- | --- |
| Watermelon Spinach Salad | | Print |
Prep time:
Total time:
I've created a fun salad to take to all of the upcoming summer festivities! It's perfect for barbecues to potlucks, or simply enjoy at home with a glass of lemonade. Recipe makes 2 main salads or 3 side servings but can easily be multiplied.
Ingredients
2 tablespoons olive oil
2 tablespoons lemon juice
¼ tsp garlic powder (Kate uses 2 cloves garlic, minced)
1 teaspoon Dijon mustard
½ teaspoon salt
A pinch of red pepper flakes
A dash of black pepper
5 cups packed spinach
1 heaping cup cooked white quinoa
½ cup sliced radishes
4 large green olives from a jar (I used garlic-stuffed, marinated olives)
For serving: 3 cups cubed watermelon, 3 tbsp sliced almonds, and, optional, protein of choice—I went with ½ cup garbanzo beans
Instructions
First, combine ingredients for the dressing in a medium bowl. Everything from the olive oil through the black pepper.
Then, add the spinach to the bowl and lightly massage or toss to thoroughly coat with the dressing.
Incorporate the cooked quinoa, radishes, and green olives.
To serve, add the watermelon and sliced almonds. Plus, optional protein, if eating the salad as a main dish.
Notes
Salad is best eaten right away but can last up to a day if made ahead of time. If saving for later, store the watermelon separately so it doesn't water down the salad and combine when ready to serve.