Oftentimes I go to bed dreaming of what I'm going to eat the next morning for breakfast.  The flavors of peanut butter and cinnamon on toast, berry-filled smoothies, or zucchini oats occupy my mind.  It might be a problem how much I think about food but if it's wrong then I don't want to be right!  Especially when it comes to breakfast—the best meal of the day!
Sweet breakfasts are my usual but chocolate, surprisingly, does not make a daily appearance in my breakfast or snacks.  Simply because it is one of those flavors that you crave the more you eat it, or, conversely, crave less if you don't eat it.  I remember the days of being a chocoholic and it wasn't pretty.  Now, I can go weeks without tasting chocolate in any form, and I'm quite fine, but once I taste some chocolate muffins or homemade chocolate peanut butter cups I find I'm craving it daily!  Not that I'm complaining.  Thankfully, my chocolate interests are much tamer these days and I channel my sweet tooth in what I'd say is a nutritious manner.
Exhibit A: Chocolate Cinnamon Breakfast Shake.

Truly, this combination came about when I accidentally threw cinnamon into my chocolate smoothie.  I spice up my breakfasts with cinnamon—AKA the wonder spice!—almost every day.  It adds a warm, comforting feel but also enhances the sweetness in foods.  Though, cinnamon with cherries, frozen cauliflower, spinach, and chocolate protein powder isn't a pairing I was prepared to make.  Fortunately for me, cinnamon can do no wrong.
The smoothie turned out to be reminiscent of Mexican Hot Chocolate.  If you wanted to tap into that flavor profile a bit more, then a dash (or approximately 1/8 tsp) of chili powder would add some heat.  Though, the cinnamon is enough—especially if you want to keep your smoothie strictly sweet 😉
Let me know if you give this a try!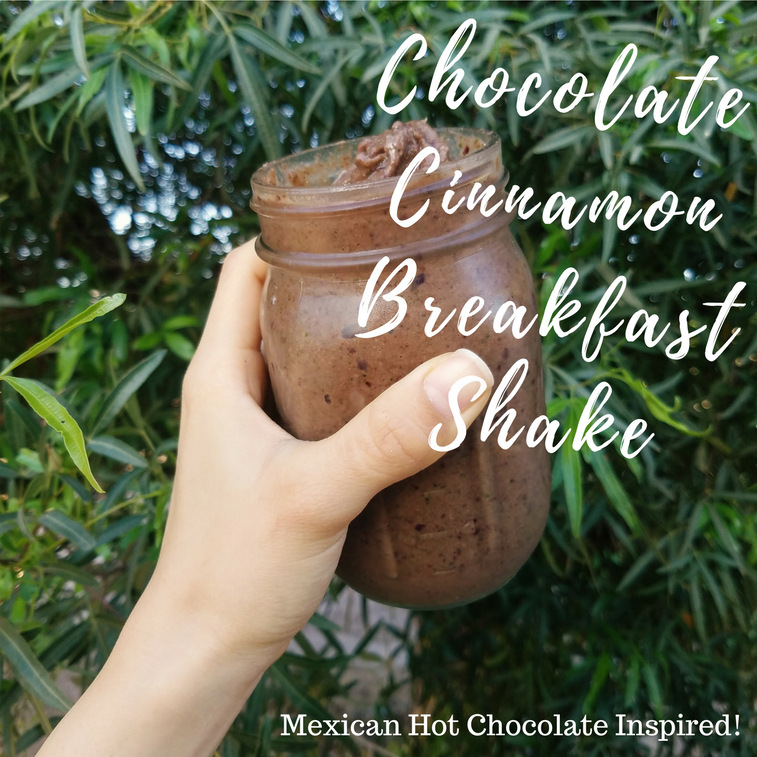 UPDATE:
I've updated the recipe below to include an option for how to achieve the same Mexican Hot Chocolate flavor if using a protein powder other than ALOHA.  Tone it Up chocolate plant-based protein or Nuzest chocolate protein would both work.

| | | |
| --- | --- | --- |
| Chocolate Cinnamon Breakfast Shake | | Print |
Recipe type:
Breakfast, Smoothie
Prep time:
Cook time:
Total time:
Cinnamon accompanies cherries, cauliflower, spinach, and chocolate protein powder to create a flavorful smoothie reminiscent of Mexican hot chocolate.
Ingredients
1½ c cauliflower, frozen
¾ cup frozen spinach
1 cup frozen cherries
A serving of chocolate plant-based protein powder (I used ALOHA)
1½ tsp cinnamon
½ tbsp almond butter
⅛ tsp chili powder (optional, but recommended for Mexican chocolate flavor)
1½ tbsp cacao powder*
½ tsp sugar in the raw or coconut sugar*
a pinch of Himalayan pink sea salt*
¾ cup coconut water + ¼ cup unsweetened vanilla almond milk (or plain water + almond milk)
Instructions
Blend up the coconut water and spinach so no spinach bits remain. Then, add in the chocolate protein powder, cauliflower, and cherries. Blend, pushing down on the sides of the blender with a spoon to help the mixture along.
When mostly combined, add in the cinnamon, chili powder, almond butter, and almond milk. If using a protein powder other than ALOHA, add cacao powder, raw sugar, and sea salt.
It will be a very thick mixture, but that's how I like my breakfast shakes. Add in a bit more almond milk or water, if desired.
Notes
I like to blend up the ingredients in steps to make it easier on my blender. If you have a strong blender, feel free to toss all of the ingredients in at once.

*The original recipe was tested with ALOHA chocolate plant-based protein powder. It has a stronger chocolate flavor and slightly sweeter taste. You can use another chocolate protein powder, like Tone it Up plant-based powder, but, to compensate for flavor differences, add the starred ingredients: cacao powder, raw sugar, and sea salt. They're all necessary to bring out the hot chocolate flavors!