Have I sunk to a new low?  Am I really writing a post about how to cook oatmeal?  In all fairness, a year or two back, I was still only making overnight oats because I had no idea how to cook hot oatmeal, and much less with zucchini.  When I was growing up, my mom used to cook oatmeal in a way that involved way too much water so the oatmeal would boil and be left swimming in murky liquid.  It was often super mushy, too.  Like, when people associate oatmeal with being old people's food, that is because they have suffered through bland, mushy oatmeal.  I was one of those people but I've come out on the other side with a revived interest in stovetop oatmeal.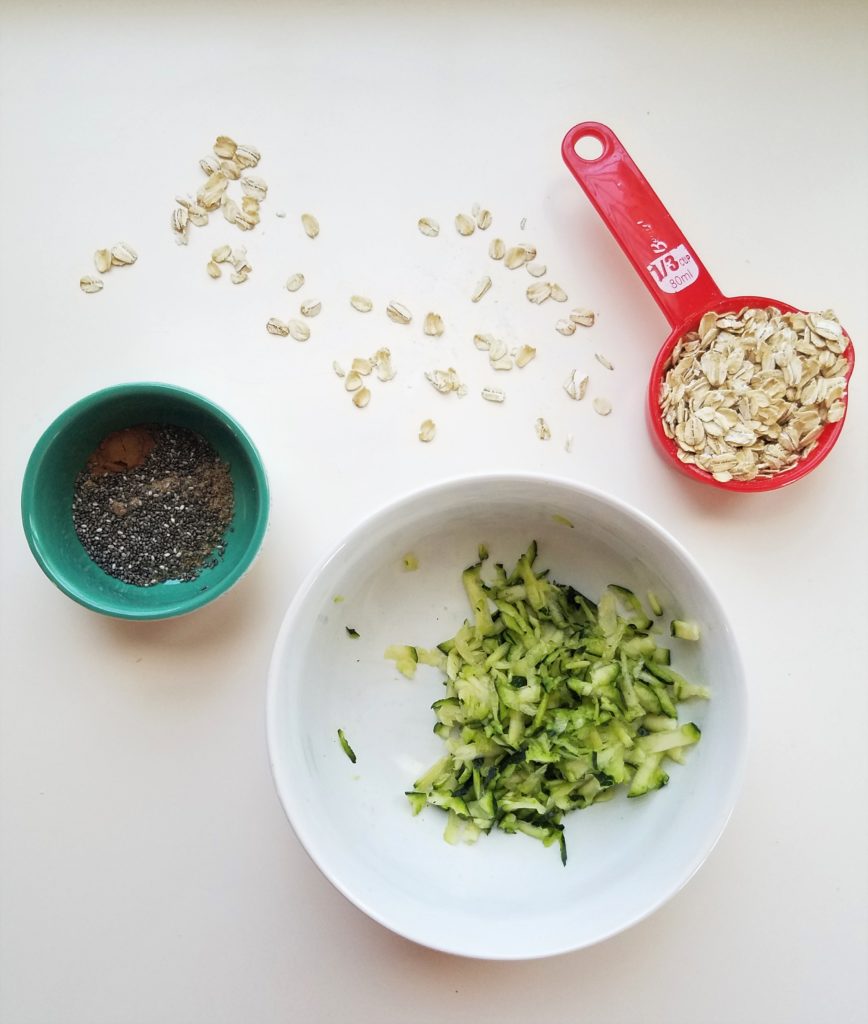 No offense to my mama's wonderful cooking, she just never measured.  Dishes don't necessarily come out well or consistent if you don't measure.  That is why I looked to Rachael's Good Eats when I wanted to cook up some real good oatmeal.  Not just any oatmeal though—oatmeal with vegetables!  You've seen me throw zucchini into smoothies here and here but oatmeal may be my favorite way to use zucchini.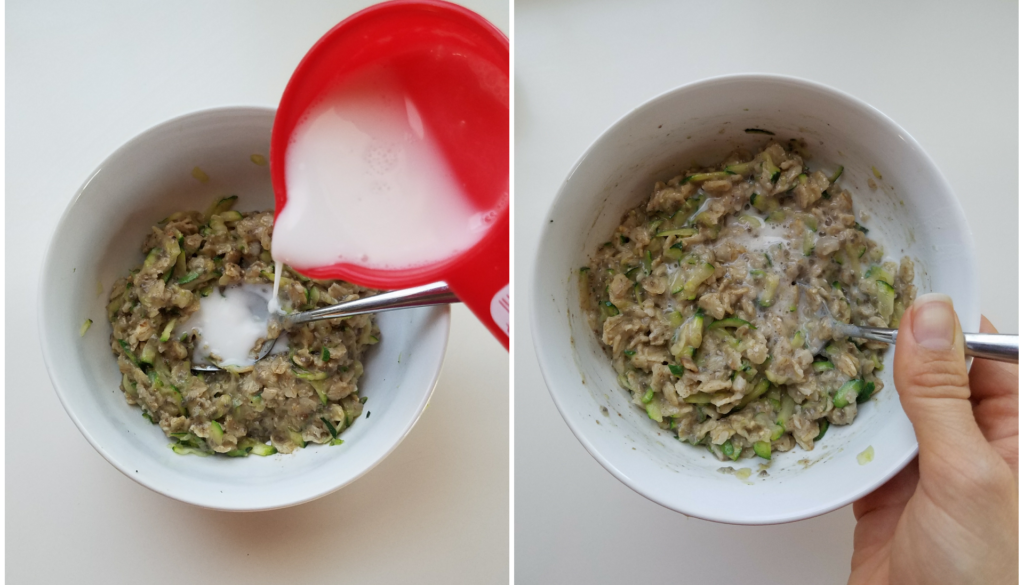 I've been taste-testing bowls of oatmeal over the past few months and I have finally found a method I like.  Rachael's recipe calls for a little bit less oats and a scoop of protein powder.  That works as long as the protein powder you're using tastes good.  Though, personally, I'd rather not add protein powder because it can overpower the flavor of oatmeal.  I use flax and chia seeds to bulk up the oatmeal and give it creaminess without mushiness.  Then comes the zucchini: an undetectable but healthful addition.  You could totally leave it out and the oatmeal would still be awesome but I promise it's so worthwhile to try it with zucchini!  It makes me look forward to eating oatmeal! 🙂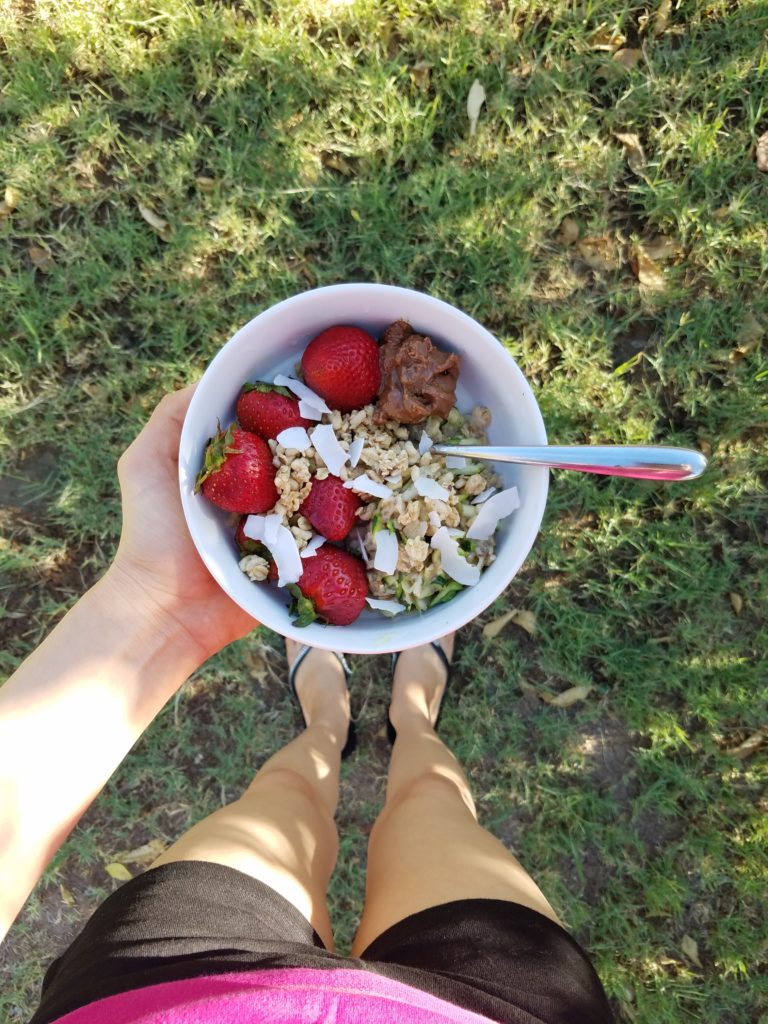 As always, let me know if you give this a try by dropping a comment down below or hit me up on Instagram!

| | | |
| --- | --- | --- |
| Zucchini Stovetop Oatmeal | | Print |
Prep time:
Cook time:
Total time:
This quick-to-make oatmeal is anything but mushy. The rolled oats are flaky and the seeds add a creaminess. The contrasting textures perfectly compliment each other. Plus, there is a sneaky serving of veggies!
Ingredients
I/3 cup old fashioned rolled oats
1 tsp chia seeds
1 tsp ground flaxseeds
¼ tsp cinnamon
½ cup shredded zucchini
¼ cup almond milk, for serving
Instructions
In a small pot, heat half a cup of water on the stove. Once boiling, add in the rolled oats and cook for 1 minute on high, then, reduce heat to med.
After the oats have started to absorb some water, sprinkle in the chia, flax, and cinnamon and stir, stir, stir! It is important to incorporate the seeds well so that they don't clump. They will begin to gel and make the oatmeal creamy without compromising the texture of the rolled oats.
Once incorporated, stir in the zucchini and cook for about 2 more minutes on medium before taking the pot off the heat. It may look like a measly amount of oatmeal but here's where the magic happens: put the oatmeal into a bowl and pour the almond milk over it, stirring to incorporate. The hot oatmeal soaks up the milk and fluffs up nicely.
Add addition milk if desired and your choice of toppings.
Notes
I topped my oatmeal with ½ cup strawberries, 1 tbsp Wild Friends Chocolate Coconut Peanut Butter, 2 tbsp granola, and ½ tbsp flaked coconut.